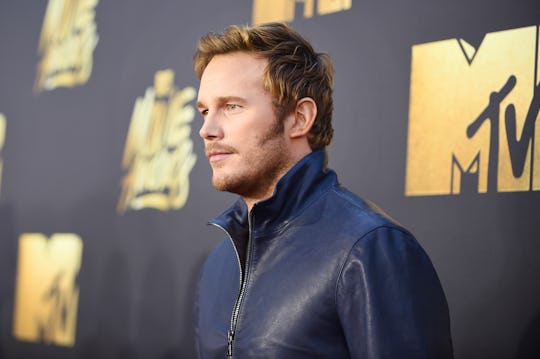 Emma McIntyre/Getty Images Entertainment/Getty Images
Chris Pratt Went Fishing With His Son & Video Of The Adventure Is Incredibly Cute
There's just something so appealing about a dude who loves being a dad. Add in a darling personality, blockbuster success, and plenty of wife fawning regularly, and you've got my new actor, Chris Pratt. As if I needed another heart-melting reason to love the Jurassic Park star, he just posted the cutest video of himself and his son enjoying a little time together. Chris Pratt's video of fishing with his son gives me all the feels, and finally confirms Anna Faris is incredibly lucky.
Just this weekend Pratt sent a sweet shout out to his 3-year-old son Jack and Faris while accepting an award for Best Action Performance at the MTV Awards. "Darling, our son was destined to be tough but thanks to you he's gonna be smart too," he told he audience. It was such a cute moment that seemed like one of many that come naturally between the camera-ready couple.
And, on Monday Pratt shared a photo and video of a recent bass fishing trip he took with Jack, and it should come with the warning: "Might make your heart burst!"
The video was posted with the caption, "This kid will be my partner in the bass masters pro am when he's old enough. We'll take the bass fishing world by storm. Tag me with pics of monster bass. They're spawning!"
Click through to Pratt's Instagram to see the adorable video of Jack.
Can we talk about Jack's itty bitty glasses? I love them so much. The lightning bolt sweater is also perfection. But Jack isn't all fashionista. He really seems to love fishing with his proud dad. He's pretty good at it, too.
Check out this evidence of Jack's big bass catch.
Pratt posted the picture on Instagram with the caption, "This little dude is bass fishing crazy. Just like his daddy!"
And Pratt is definitely a fan of the sport. Here's another image he shared a few months ago on location in Louisiana while working on his movie The Magnificent Seven.
"A little bass fishing in my downtime on set of #TheMagnificentSeven. I LOVE LOUISIANA!!" he wrote about the picture.
Pratt shares tons of great images on his Instagram but Jack and Anna are the definite stars of his feed. Like this image he shared from a few months ago of his wife and son.
The caption he wrote says just about everything you need to know about the goofball action hero: "Happy boy, happy wife, happy life, porch swing."
Like I said, there's just something so appealing about a guy who loves his family, and maybe even a little bass fishing.