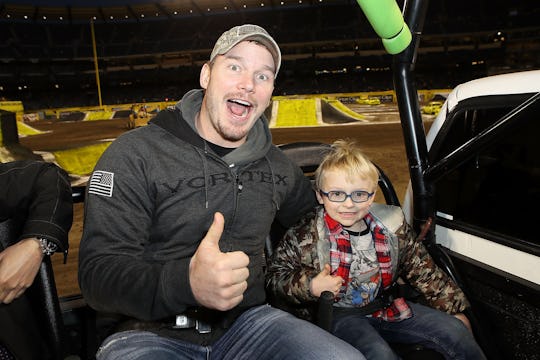 Ari Perilstein/Getty Images Entertainment/Getty Images
Chris Pratt's 5-Year-Old Son Is Adorably Unconvinced By His Dad's 'Jurassic World' Role — PHOTO
Little kids are some of the toughest and most honest critics out there, especially when it comes to their parents. They don't care who you are or the fact that these people brought them into this world, they will tell them how it is — whether it's how they're feeling about your new haircut or that dinner you spent hours cooking. And celebrity kids are no exception to this — like Chris Pratt's kid, Jack, who he shares with ex-wife Anna Faris. In fact, in a new Instagram post on Saturday, Pratt revealed that his 5-year-old son is apparently unimpressed with his work in some of his biggest hits and it's so adorably hilarious.
Pratt plays a raptor expert named Owen in the Jurassic Park film series, according to Entertainment Weekly, which means, in the films, he knows everything there is to know about dinosaurs. But in real life, Pratt's son, Jack, is a little less convinced by his dad's dino expertise. In an Instagram post on Saturday, Pratt shared that Jack went to the amusement park, Universal Studios, with a friend and visited the Jurassic Park attraction, Raptor Encounter. A theme park is always a super fun experience — nothing beats seeing your favorite movies come to life or meeting your favorite characters — and so when Jack went to see Raptor Encounter, he was convinced the attraction was pretty legit (because seeing something happen on film versus actually meeting someone in real life is a totally different experience for kids with huge imaginations).
Pratt wrote about this on Instagram, sharing:
Gotta love it. Jack (seen here in blue Optimus Prime helmet) went to Universal Studios with his buddy the other day. He comes home and tells me he met the "real" raptor trainer. 😂 Big shout out to all the park performers out there keepin' it real on a daily basis. Our kids' smiles say it all. Keep up the good work. 🙏♥️
At least Jack can understand that his dad is an actor and not actually a raptor trainer in real life. But, at the same time, it's fair to wonder if his dad felt a little insulted, right? Just kidding, you can tell from his post that he certainly was not. Regardless, the anecdote is super adorable and proves that Jack is happy to keep his father humble. No matter how big of an actor he may be, Pratt can count on his son to just call him "dad."
This isn't the first time that Jack has set his father in line. For example, in the Guardians Of The Galaxy film series, Pratt plays the superhero, Star Lord. But just because his father is a superhero and a part of The Avengers doesn't mean that his dad is his favorite superhero. Pratt told E! News that Jack's favorite super hero is actually Spiderman and Black Panther. Pratt told E! News:
He's seen, I think, just about every Marvel movie. You know, for some reason, he doesn't like me as much. Maybe he's just cool.
Although Jack isn't too impressed by his dad's line of work, it is clear that he very much loves him and looks up to Pratt — just maybe not his characters. For instance, Pratt posted an adorable photo of Jack on his Instagram account in March wearing his work boots (that he'll fill one day) and it was an adorable example of their father-son bond. In fact, Jack and his dad often go fishing and farm together, according to People, and you can tell from Pratt's photos that Jack absolutely loves this time with his dad.
While Jack might not be totally in awe his father as an actor as the rest of the world very much is, it's clear that he appreciates him in many other ways — and will be there to set him straight if his fame ever gets to his head.