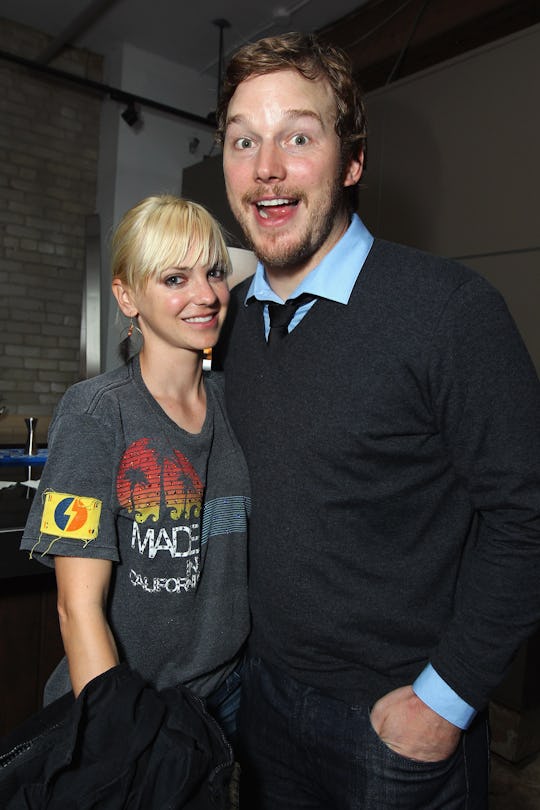 Alexandra Wyman/Getty Images Entertainment/Getty Images
Chris Pratt's Sweet Message To Anna Faris
When it come to co-parenting, there are some moments when it can feel like you're totally alone. That's an all too real, normal feeling, even for celebs, who are managing marriage, kids, and a life documented by cameras. Which is why Chris Pratt's message to Anna Faris is just the sweetest thing ever
In an Instagram post this week, Pratt thanked Faris and their son for coming along for his press tour. Pratt has been off filming one movie and promoting the next installment of the Guardians of the Galaxy. Faris, in the meantime, has spent a lot of time at home in Los Angeles, recording a podcast, Unqualified, in which she hangs out with friends and gives relationship advice. She'll sometimes have Pratt call in when he's away for work.
If you listen to Faris' podcast, the fact that she is accompanying Pratt on his press tour should not be news. (And BTW, if it's not clear by now, you should listen to Anna Faris' podcast.) But, fan or not, seeing Faris on Pratt's press tour might make you all warm and fuzzy inside, knowing how close they are. Apparently, Chris Pratt felt the same way and posted a picture of himself with his wife to Instagram on Monday, captioning it:
My dear sweet @annafaris getting flashbacks from her hilarious role in Lost in Translation. Thank you for the support honey! You look so beautiful. These press tours can be such a whirlwind. I'm grateful to have you and the boy with me on this one. Although it's 3:00am right now, I was just awakened by a square kick to the back as little man climbed into bed and then must have had a karate dream or something and now I can't sleep. I'm on insta instead. All you dads and moms know what I'm talking about
Editor's Note: The Instagram post has since been removed.
Being the great, goofy actor that he is, it might be hard for some fans to remember that Pratt is also, by all accounts, a great husband and dad. Again, just listening to Faris' podcast might convince you that not all relationships have to be as hard as we sometimes make them out to be. If you need a relationship role model, Faris and Pratt are a good choice.
Seriously, the couple feels so grounded that they don't feel too weird about raising their son Jack in Hollywood. Faris told E! News last year:
We want Jack to have as normal of a childhood or at least a similar childhood as we had. The other day I was picking him up from his pre-school and there was some paparazzi — that doesn't happen very often, when Chris is around and in town it's different— but Jack waved at them and said, "Cheese!"
Obviously, little Jack doesn't know yet that he's living the dream. But his mom and dad definitely know that they're lucky. And respect each other. How can you not want to swoon at that?