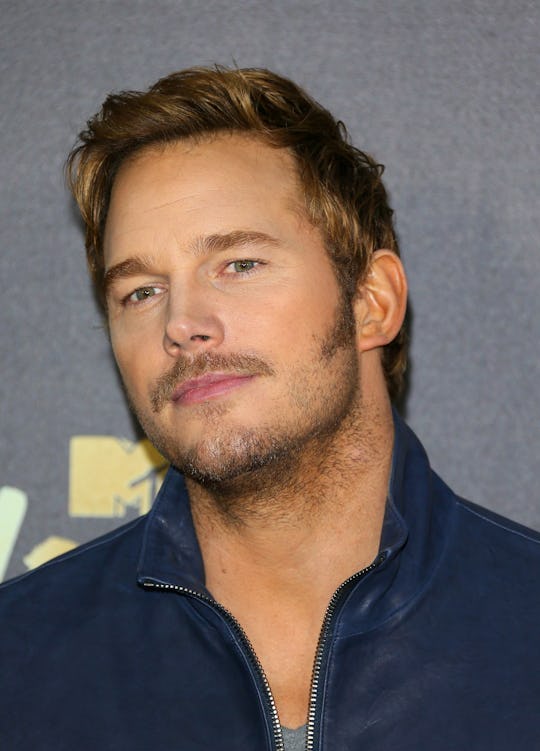 JEAN BAPTISTE LACROIX/AFP/Getty Images
Chris Pratt's Sideburns At The MTV Movie Awards Had Fans Confused
Christ Pratt is known as a beautiful, all-American man in most parts of the world. But Chris Pratt's sideburns at the MTV Movie Awards on Sunday had fans seriously confused and quesiton whether the actor was hot or not. Pratt showed up sporting what seemed to be a ton of bronzer, redder than usual hair, perfectly crafted sideburns, and eyebrows to make anyone jealous. What is this look about? Currently, Pratt's filming Guardians of the Galaxy Vol. 2, so maybe it's something he has to wear, contractually. But it's not a great look, even if you fangirl hard for the man.
On the other hand, this might just be where culture is headed. One fashionable fan noted on Twitter that Pratt's sideburns were "literally" male contouring — that thing women are taught to do with bronzer — and his look is pretty much the "future of male styling." Everyone has a right to make themselves look good for an award show, but Pratt and his stylist might have taken it too far this time. Racked magazine tweeted, "In his plastic jacket and painted on burns, Chris Pratt looks like an actual Ken Doll. Not not into it."
Others could look right past the "Ken Doll" look and see only the man of their dreams. "Can the camera just stay on Chris Pratt the whole night?" was one of many responses to his pretty boy look. Because you can give a man some sideburns, but you can't take away his seemingly awesome personality and skills. During Dwayne "The Rock" Johnson and Kevin Hart's Batman v.s. Superman skit, the two co-hosts threatened to slap Pratt "back to sitcoms," and the Jurassic World actor shrugged his shoulders and mouthed "OK" to the camera. Pratt also goofed around on the red carpet with Amy Poehler, so maybe a Parks and Recreation reunion isn't too far off.
Pratt took home the Golden Popcorn for Best Action Performance for Jurassic World and accepted the award by saying it was "a freakin' dream come true." He thanked other action heroes like Sylvester Stallone, Jackie Chan, Jason Statham, Liam Neeson, Harrison Ford, Eric Roberts, Anthony Mackie, and even God for inspiring him.
Those guys are great and everything — but can they master sideburn contouring? Maybe MTV needs to add a new category next year if the guys are going to keep this side-burn look up.