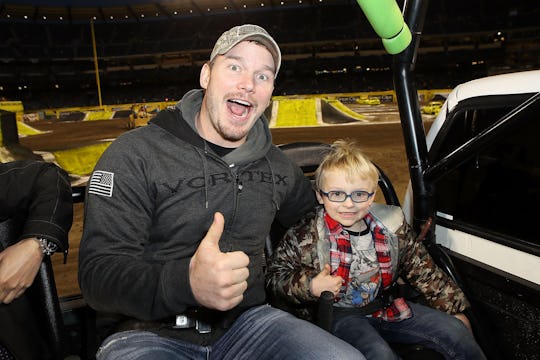 Ari Perilstein/Getty Images Entertainment/Getty Images
Turns Out, Chris Pratt's 5-Year-Old Son Has Quite The Potty Mouth & His Story Is Hilarious
Children pick up on anything, especially when it comes to the people they look up to, like their parents. After all, there's a reason why people tend to spell out certain curse words around impressionable kids, otherwise there might be some pretty embarrassing moments in your future. And actor Chris Pratt knows this to be true, as his young son, Jack, whom he shares with his ex wife Anna Faris, recently showed him. In a new interview, Pratt shared a story about his 5-year-old son swearing and it will have you in stitches, but it might also have you considering what you say around your own kids.
There are some things that parents want to pass down to their kids and it's clear from his many Instagram posts that Pratt is already passing down his love of fishing to Jack. During an interview on the Graham Norton Show, according to Us Weekly, Pratt also revealed that he is passing down his (sometimes foul) mouth to his son, as well. "I have this rule with my old man and I have it with my son, which is when you're fishing, you can swear," Pratt said, according to Us Weekly.
So, during a recent fishing trip near Pratt's farm in Washington, according to Us Weekly, Jack got to try his hand at swearing, too. Pratt explained that after he and Jack caught a fish, it poked Jack in the hand, which caused him to cry and call the fish "stupid" — that is, until Jack was reminded of the "rule."
That's when, Pratt revealed, that Jack decided to let his knowledge of curse words show, saying, "That stupid bass is a f—ng p—y," according to Us Weekly. "It was hard not to laugh at that," Pratt said. Well, that is one thing to call a fish.
There's no denying that Pratt and Faris are two incredibly funny people who say some pretty hilarious things, so it shouldn't come as a surprise that their kid does the same. Although Pratt revealed that he allows Jack to curse while they fish, he isn't necessarily a champion of kids cursing in every day life. In a tweet from last April, Pratt told one fan that while he doesn't find swearing to be that bad, he doesn't want to influence his younger fans too much. "I don't see swearing as sinful behavior the way I do words of gossip," Pratt tweeted. "Kids: wait 'til you're an adult to swear."
If some people are still considering Pratt's story about letting his son swear at such a young age, take into consideration that there is no proof that exposing kids to "ordinary profanity" causes "direct harm," according to the Los Angeles Times. Some even believe that swearing serves as a "bonding vehicle" between children and their parents, according to the New York Post, and researchers have found that people with the biggest vocabularies "know the most dirty words in particular."
But Pratt doesn't need cursing as a "bonding vehicle" because it is clear that these fishing trips with his son serve as just that. Pratt's Instagram account is filled with photos of him and Jack farming and fishing together (and looking incredibly adorable while doing so).
It's clear that Jack's mom is on the same page about her son saying some funny (albeit pretty inappropriate) things. This past January, Faris revealed in an interview with E! News that she and Pratt "try to discipline" Jack when he's "being a bit naughty," but at the same time, Faris said, according to E! News, "I think the key is surrounding him with a lot of joy and happiness, which he has a ton of."
Whether people agree with Pratt's decision to let their son curse or not, they can't deny that the story is pretty hilarious — and he definitely had that phrase locked and loaded.