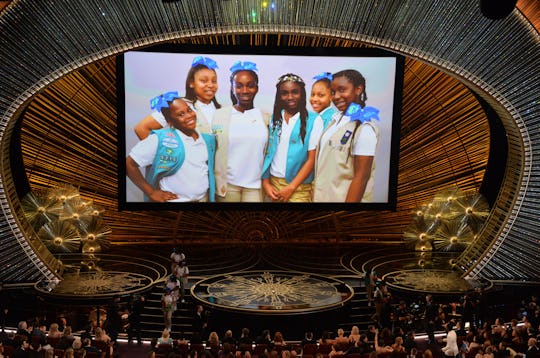 MARK RALSTON/AFP/Getty Images
Chris Rock's Oscars Girl Scout Cookie Sale Is The New Ellen Pizza Moment
Troop Beverly Hills, eat your heart out: Chris Rock sold Girl Scout cookies at the Oscars. Two years ago, Academy Awards host Ellen DeGeneres delivered pizza to the famished stars just waiting for their after-party spreads. This year, it's Thin Mints and Samoas for the Oscars attendees, many of them waving around large bills as Girl Scouts — actual Girl Scouts! — made their way through the audience selling their boxes of awesome of the last night of cookie sales on Sunday.
In a completely amazing plug for the national non-profit organization for young girls, Rock spoke about how he was spending so much time away from his two daughters in prepping for his Oscars hosting stint. "I have missed most of Girl Scout cookie season," the 51-year-old comedian confessed. He then pled, on behalf of his sash-wearing daughters, that Hollywood help his daughters' Girl Scout Troop sell the most cookies this year, and then his daughters' troop actually started selling Girl Scout cookies right then and there. A small group of Girl Scouts, presumably including Rock's two daughters, Zahra and Lola, then started making their way through the star-studded crowd, doling out Thin Mints, Tagalongs, Trefoils, and Samoas.
Twitter blew up over the lighthearted break in an otherwise fairly heavy-hitting and shockingly self-aware Oscars show, with Rock's constant riffing on #OscarsSoWhite:
Commence stomach rumbling:
And Hollywood's stars whipping out their wallets:
And it wasn't long before Twitter began invoking the best troop in Hollywood:
Rock's Girl Scout cookie-selling stunt was one brilliant, delicious moment of the evening. And now I could really go for a box of Thin Mints like, whoa... and I was just reminded that I really need to re-watch Troop Beverly Hills STAT.
Update: Rock just came back out with his daughters' Girl Scout troop to announce how much money they raised from their Oscars cookie sales. Last year, the troop made $600. This year, if the numbers are to be believed, they just raised $65,243 in Girl Scout cookie sales. Nicely done!
To find Girl Scouts selling cookies near you visit www.girlscoutcookies.org or use the official Girl Scout Cookie Finder app, free for your iOS, Android phone or mobile device.