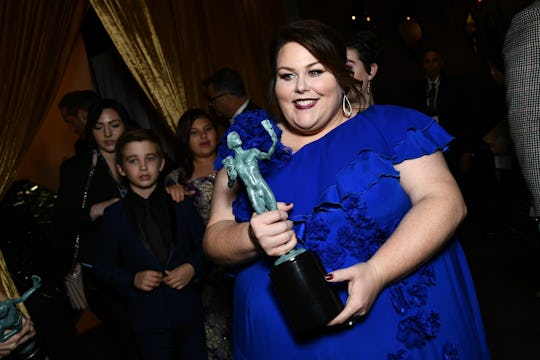 Emma McIntyre/Getty Images Entertainment/Getty Images
Chrissy Metz Opens Up About The Heartbreaking Abuse She Endured As A Child
If you're looking for something to hold you over until the next season of This Is Us, you're in luck. Chrissy Metz, who plays Kate on the show, is releasing a memoir next week called This Is Me: Loving the Person You Are Today and it's just as emotional as you might expect it to be. Because it's real, of course. According to an excerpt published in People this week, Chrissy Metz opens up about abuse she suffered as a child at the hands of her stepfather and growing up in poverty.
She told People, "I'm a tough cookie. But it's one of those things that attempts to break your spirit." When Metz was 8 years old, according to People, her father left her mother, Denise, behind to raise her and her two siblings, who were 15 and 13 years old, respectively, at the time. Metz's mom had another child, Morgana, with a boyfriend who also left. Her mother eventually married a man named Trigger and he would become Metz's stepfather and have a baby girl, Abigail, with Metz's mom.
"Trigger loved his two biological children, and was even welcoming to Morgana. Me, not so much. My mother was always at work, so she didn't see how he treated me," Metz writes in the excerpt of her memoir published exclusively in People.
She added in the same excerpt of her book that her body "seemed to offend him," though he "couldn't help but stare, especially when I was eating." Metz wrote, "He joked about putting a lock on the refrigerator. We had lived with a lack of food for so long that when it was there, I felt like I had to eat it before it disappeared. Food was my only happiness."
Metz wrote in the excerpt of her book that as she got older, according to People, the abuse allegedly became physical. She added:
I don't remember why Trigger hit me the first time. He never punched my face. Just my body, the thing that offended him so much. He shoved me, slapped me, punched my arm. He would hit me if he thought I looked at him wrong. I remember being on the kitchen floor after he knocked me over, and I was begging to know what I did. He just shoved me hard with his foot.
When she was 14 years old, Metz wrote in the excerpt in People that Trigger would start to weigh her, throwing the scale down on the floor, and sitting ext to her, commenting on the numbers. At the time, she wrote that she was somewhere around 130 or 140 pounds, though her friends were smaller than she was at the time.
Trigger would ask her why she was getting fatter, which is so sad on so many levels. Not only was Metz not "fat," she was also hiding in her room, according to the People excerpt, and sneak in chips and cookies to escape Trigger's comments about her body in the common areas of the home. Metz wrote in the People excerpt:
I look at pictures of me from that time, and I would be so fine with being that size now. But I thought I was gigantic. By then the beating had escalated. One time he hit me, and I looked right in his face. If I had a gun, I thought, I would shoot you.
Although Metz concluded in the People excerpt that Trigger has since apologized and they currently have a relationship, it wasn't easy to get there, as so many survivors of domestic abuse can imagine. While the abuse was happening, she wrote in the People excerpt that she struggled to understand how someone who sometimes seemed so "fatherly" and let her watch Ken Burns documentaries with him could be so abusive at other times. That cognitive dissonance is a common feeling among victims of abuse, especially for young children who have to depend on the adult hurting them, according to domestic violence prevention experts via the American Psychological Association.
It's heavy stuff for sure, but Metz's story will likely also inspire people who have been through childhood trauma, knowing that it's possible to move past it and achieve your dreams. Metz is beloved by so many fans already for her role on This Is Us, and opening up about her past in her new memoir is sure to earn her many more. You're definitely going to want to get a copy.
Check out Romper's new video series, Bearing The Motherload, where disagreeing parents from different sides of an issue sit down with a mediator and talk about how to support (and not judge) each other's parenting perspectives. New episodes air Mondays on Facebook.