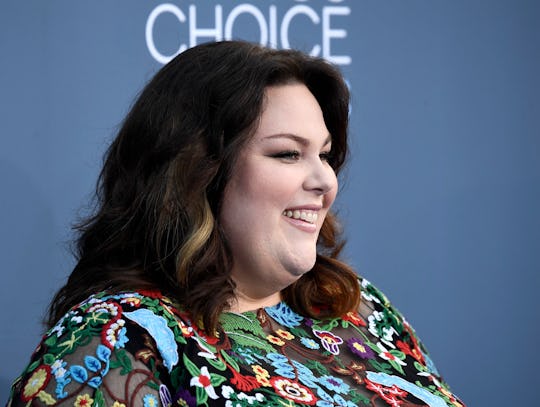 Frazer Harrison/Getty Images Entertainment/Getty Images
Chrissy Metz Receives First Golden Globe Nomination, & She Is Very Thankful
Unless you've been living under a rock since September, you've likely heard about (or cried your eyes while watching) fall's breakout television show, This Is Us. The series has received much critical praise, and could soon earn some awards to go with verbal applause. Case in point — Chrissy Metz received her first Golden Globe nomination for her beautifully portrayal of Kate Pearson on the NBC series. And her reaction to the nomination couldn't be more perfect.
Upon receiving the news of her first nomination, Metz, who is nominated for Best Performance by an Actress in a Supporting Role in a Series, Limited Series, or Motion Picture Made for Television alongside her television mom Many Moore, tweeted a message a gratitude not only for her nomination, but for the people who helped her get there.
"I can't even express the love and gratitude I have for the incredible artists of @NBCThisisUs!," Metz tweeted on Monday morning, following the Golden Globe nomination ceremony. "Congratulations to the entire company! #hfp."
A truly humble message from a truly humble actress. Though if anyone has the right to tweet some boo-ya sentiments, its Metz. According to The Hollywood Reporter, Metz started as a talent agent before hitting it big in Hollywood. "I came out here to be an actress but I needed to pay the bills and I didn't want to work with the general public," she told the publication earlier this year.
Though she's come along way since her days behind a desk, Metz still has her struggles in Hollywood. As a plus-size actress, there is the constant fear of being typecast in a particular role. But her role on This Is Us is anything but the typical fat girl storyline. In an interview with Bustle, Metz said she connected to Kate because she doesn't let the weight define her. She said:
Just because you're fat doesn't mean that's just what you are. You can say, "I'm a woman. I'm an entrepreneur. I'm x, y, z." That's what I love about this role in particular. Kate's not just the butt of the joke. It's actually a story with a message about how she navigates through her life and becoming the woman that she's always meant to be.
And that is just one of the reasons people love the humorous, honest, and real Kate Pearson, as well as the woman behind her. To say fans were happy with Metz's nomination would be an understatement.
One can only hope that the mother-daughter duel doesn't take a toll on the cast. To see if Metz takes home the Golden Globe, tune into the award show Sunday, Jan. 8 at 8 p.m. ET.