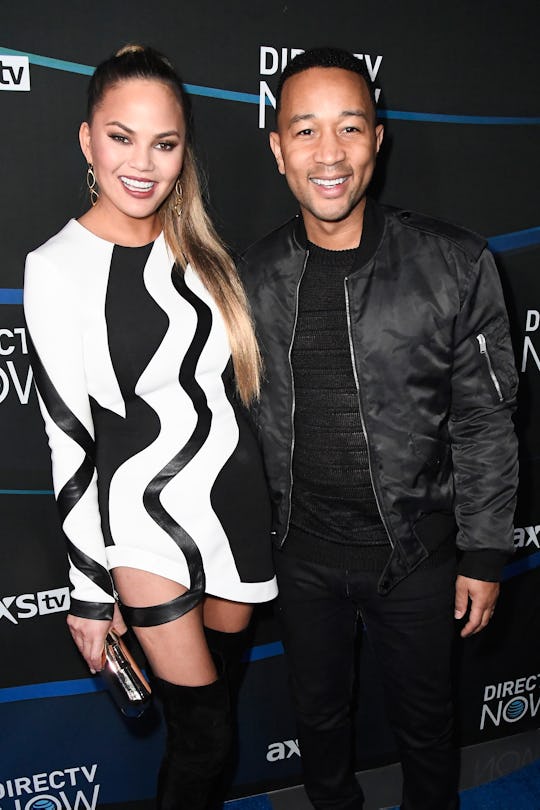 Frazer Harrison/Getty Images Entertainment/Getty Images
Chrissy Teigen Had A Super Bowl Nip Slip
What's not to love about Chrissy Teigen? She's gorgeous, hilarious, a talented cook, and one-half of the cutest celebrity couple in existence along with hubby John Legend (and their daughter Luna is totally adorable, too). Teigen's life actually looks downright perfect much of the time TBH, but that doesn't mean she's immune to embarrassing moments. According to Cosmopolitan, Chrissy Teigen apparently had a nip slip during the Super Bowl, which must have been kind of mortifying. But because she is the queen of social media (and also just totally unafraid to laugh at herself), Teigen opted to respond not by pretending it didn't exist, but by sharing it with the entire world.
While the rest of us were at home glued to our screens, Teigen and Legend were watching Super Bowl 51 from a private box in NRG Stadium in Houston. Naturally, Teigen live-tweeted the event, complete with multiple photos of everything they were eating (nachos and hot dogs, for the win). As usual, the couple was super cute and total #relationshipgoals, but one eagle-eyed Twitter user (who was maybe paying a little bit too much attention to Teigen's chest on his DVR playback, just saying) noted that the model had chosen to go bra-less under a sheer shirt. While her breasts remained covered by her jacket, at some point, cameras caught her accidentally flashing her boob to the crowd.
Even though that's pretty embarrassing, Teigen took it in stride, and re-tweeted the original nip slip with the caption, "boom goes the dynamite." She then resumed live-tweeting as usual, sharing videos and funny tweets, and uh, even more food, because, no big deal.
Teigen's followers were pretty impressed by her response though, and praised her for not GAF about the fact that she inadvertently flashed the millions of people who were watching the Super Bowl.
Some joked that her nipple was the real star of the show (sorry, Lady Gaga and/or Tom Brady):
Others pointed out that there should literally be nothing at all offensive about a women's boob:
Some were wondering how the original poster even caught that split-second moment (seriously, Chuck, what's up with that?):
While others had to make the inevitable Janet Jackson joke:
Then again, it seems like Teigen's nipple wasn't even as big a deal to most people as her too-cute-for-words PDA with Legend during the show (because obviously their love is keeping the dream alive for all of us):
It's kind of funny though (and by "funny," I mean "weird") that something like Teigen's accidental nip slip could end up being such a big deal. But, as usual, Teigen just used the incident to prove once again that she's a total boss, if anyone may not have been previously paying attention. Well played.