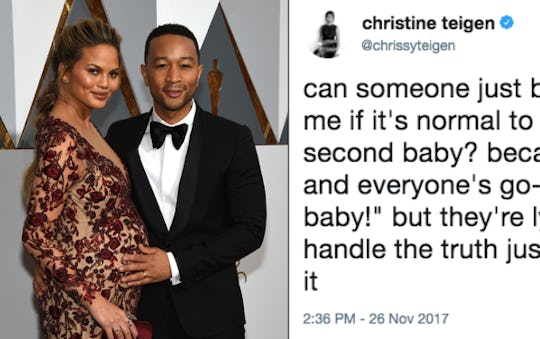 Ethan Miller/Getty Images Entertainment/Getty Images
Chrissy Teigen Asked Twitter If Her 2nd Pregnancy Is "Normal" & Moms Promptly Responded
A lot of celebrities aren't exactly relatable, per se, with their millions of dollars and million of Instagram followers. But one model and cookbook author has made her mark as both relatable and hilarious. And now, just after breaking the news of her second pregnancy is the most adorable way, Chrissy Teigen has asked Twitter if her pregnancy experience with baby number two is "normal," further cementing her place as the reigning queen of the social media site.
Just before the Thanksgiving holiday, Teigen took to Instagram to announce that she was pregnant with her second child with husband John Legend. And of course, keeping with true Teigen fashion, she couldn't just upload the cute video of her daughter, Luna, saying there was a "baby" in her belly. Oh no, she also managed to make a joke about her pregnancy announcement as well, with the witty caption: "it's John's!"
But now, Teigen has taken to Twitter to pose a more serious question that's clearly been concerning her about her pregnancy this time around. On Sunday, Teigen asked her 8.7 million followers whether it was "normal" that she was getting "bigger, faster" with her second pregnancy. While her question is totally valid — and the responses are also pretty hilarious (and comforting) — the truth is that it is totally normal for a woman's body to grow faster with her second pregnancy.
According to Parents, "After having a baby, your uterus doesn't shrink all the way down to its previous size, which gives it a head start in growing during the next pregnancy." Basically, after having your first baby, your body changes and doesn't totally go back to how it was before babies. So, Teigen explaining that she is "getting big, fast" is totally understandable. While it's unclear just how far along she is, she's likely past her first trimester, seeing as how most people wait until the 12-week mark to officially announce that they're expecting. That's because, according to Healthline.com, "between 10 and 25 percent of known pregnancies end in miscarriage," and "about 80 percent of miscarriages happen in the first trimester."
So, if Teigen is at least 12 weeks along, it would mean that her fetus is about the size of a lime, or maybe bigger. And based on the responses to Teigen's tweet so far, it seems as though the answer is clear: Teigen's body is doing something amazing and it's growing at a totally normal rate.
Some People Offered Some Very Practical Advice & Words Of Wisdom
Others Shared Their Own Experiences
Others Responded With Humor (Of Course)
Teigen has always been fairly open about her struggles with her fertility and postpartum depression in the past, and so it's not surprising that she is already beginning to share her thoughts and feelings during her second pregnancy.
In an essay for Glamour this March, for example, Teigen revealed how she felt after giving birth to little Luna, and how those feelings conflicted with what society told her she should be feeling. "I had everything I needed to be happy," she wrote. "And yet, for much of the last year, I felt unhappy. What basically everyone around me—but me—knew up until December was this: I have postpartum depression. How can I feel this way when everything is so great?"
Being so candid with her fans about her struggles has truly set Teigen apart from other celebrities as both relatable and empowering. And even with a seemingly inconsequential question like that of her changing body with her second baby is important. Because, the truth is, many women might not know if the subject of Teigen's tweet is normal, and her huge public platform means that her concerns become even more visible and could end up helping someone.
Twitter truly is a beautiful place. Whether you're looking for entertainment, a place to vent, or some answers, it's basically a one-stop shop. And when Teigen needs an answer to a burning question or asks for some parenting advice, you can bet her followers will provide.
Check out Romper's new video series, Romper's Doula Diaries:
Watch full episodes of Romper's Doula Diaries on Facebook Watch.