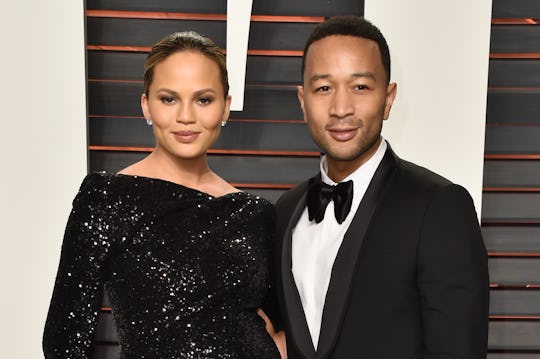 Pascal Le Segretain/Getty Images Entertainment/Getty Images
Chrissy Teigen Breastfed While On A Photo Shoot, Proving New Moms Are A-Plus Multitaskers
It's only been a month since supermodel, entrepreneur, and social media superstar Chrissy Teigen gave birth to her adorable daughter, Luna Simone, and it appears that Teigen is already getting back into the swing of things, according to People magazine. On Monday, Teigen shared a photo on Snapchat of her cuddling little Luna while getting gorgeous on the set of a recent photo shoot — and, as seems to be typical for any of Teigen's parenting choices, it was enough to get the Internet venom flowing again. What had commenters so riled this time? According to People, the pic showed Chrissy Teigen breastfeeding while on set and that, to some, was simply unacceptable.
On its own, the photo seemed innocent enough: a topless Teigen is seen discreetly turning away from the camera as she cradles Luna close for feeding. The new mom even managed to flash a huge smile over her shoulder in the photo, which other newbies could interpret as the universal sign for "it takes a while, but you'll get the hang of it!" According to a report from the Daily Mail, Teigen's breastfeeding photo was captioned with a sentiment that most moms feel at some point: "Christine wears many hats."
But even that was enough to get negative pushback from commenters at the Daily Mail and other news sites. People raged about everything from Teigen's lack of decorum for not covering up to her decision to share yet another parenting moment with mothers everywhere.
"This is so sad," wrote BlondyO, a Daily Mail commenter from Austin, Texas. "There's no way she's really breastfeeding. She's too vain and would never make the time. This is just another way to show her boobs on Instagram. This is beyond pathetic."
Another reader, Cevag from Miami, seemed to think Teigen was using newborn Luna as a prop to get attention:
Her latest fashion accessory...her newborn. She couldn't wait to post another pic of herself using her baby!
Others, like the below comment from Loves Roses, took issue with the idea that Teigen was actually multitasking, given that the supermodel presumably had help and support available to her on set:
Multi-tasking? Why is it called multi-tasking while sitting there feeding her daughter while loads of other people are getting her ready? She ought to try working full-time with no help like millions of other mothers out there. She's a joke and do [so] annoying at the same time!
Teigen has gotten more than her share of criticism since late last year when she and husband John Legend announced they were expecting their first baby. Online critics have gotten on the couple's case for everything from choosing a female embryo during in-vitro fertilization to daring to have a date night just nine days after their daughter's birth.
And just this week, a Mother's Day photo of a svelte Teigen sporting a crop top and denim shorts within weeks of giving birth sparked a whole new round of outrage. Commenters claimed that the photo was bad for women who might be struggling with their own body issues after having a baby and was shaming for those whose post-baby figures may not be as "social media ready."
Apparently, new mothers can get shamed for taking a while to get the hang of motherhood and — as Teigen seems to be finding out — for figuring things out too quickly or looking too good while doing it. Seems impossible to win.
For now, Teigen has remained pretty quiet about this latest round of internet venom. But given her talent for taking down trolls with the greatest of ease, that silence will only last so long. And when Teigen finally does speak out, I'm kind of hoping she'll do it while on another date night with Legend, wearing a crop top, and breastfeeding little Luna.