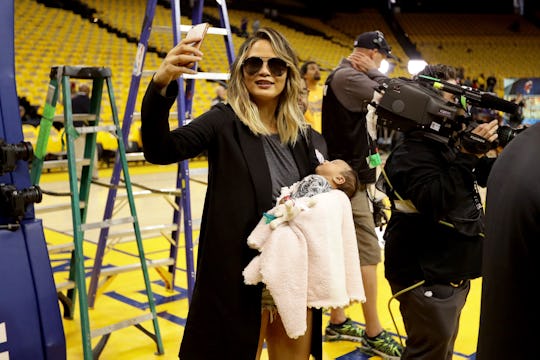 Ezra Shaw/Getty Images Entertainment/Getty Images
Chrissy Teigen Brought Luna To The NBA Finals, & (Surprise!) She Was Criticized For It
She may only be 7 weeks old, but she's already living a the life! Chrissy Teigen brought Luna to the NBA finals in Oakland, California Thursday according to People, and in typical newborn fashion, well, she slept through most of the action. Teigen and husband John Legend shared snaps on social media of their daughter at the Oracle Area ahead of the game, captioning one pic, "Luna at the #NBAFinals!" A separate Snapchat clip showed a beaming Teigen holding her daughter, while Legend could be heard off-camera saying, "Luna's first basketball game. Oh my goodness!"
But while the sleeping infant appeared happy and comfortable in her mother's arms, not everyone thought the couple did the right thing by bringing her. No stranger to mom-criticism (I mean, can she do anything without someone telling her she's being a bad mother?), Teigen re-tweeted a message from a fan suggesting that the game would be too loud for Luna's sensitive newborn ears. But, as usual, the concern was unnecessary — Teigen clarified that Luna wasn't actually going to be present for the game itself, but that she and Luna were there with Legend during rehearsals, as he was set to sing the national anthem later that night.
While Luna didn't get to watch the actual game (not that she would have been all that interested anyway), Teigen and Legend did get to watch, in a pair of sweet courtside seats. And according to Us Weekly, the good-natured couple joked on Snapchat about how they should have snuck a baby decoy into the game to mess with online haters who seem to jump at the chance to criticize their parenting choices.
Despite the onslaught of unsolicited parenting advice and commentary since Teigen announced her pregnancy, the couple has remained open about sharing their lives with fans via social media — including their new life with baby Luna. Before giving birth, Teigen told People that she didn't think she'd want to hide their daughter from the world, because that's not who they are:
We're not going to go out of our way to hide because obviously it's such a big part of our lives to show everything: the inside of our homes, my parents living with us, our animals, everything. I'm not going to do sneaky back shots of her or anything.
And she was right. Since her birth, little Luna has been an adorable fixture on both of her parents social media accounts.
While it totally sucks that Teigen and Legend have to contend with the constant commentary of Twitter trolls (I can't imagine what that must be like to deal with in general, let alone as a brand new parent), it's pretty awesome to get to see these sweet glimpse into their lives. But I think it's pretty safe to say that they are doing an awesome job being loving and protective of their daughter, so perhaps it's time they got a break from all the judgment.