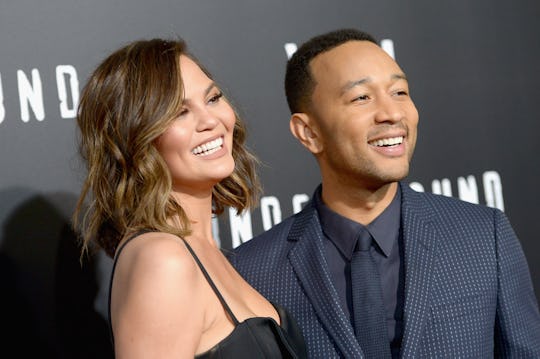 Charley Gallay/Getty Images Entertainment/Getty Images
Chrissy Teigen Captures Luna's First "Step"
It feels like there's no celebrity mom more fun or candid than Chrissy Teigen. From her tweets to her Instagram posts, Teigen is constantly honest about her role as a mother to daughter Luna, as a working model, and as a partner and wife to husband, singer John Legend. Where Teigen gets particularly real is on Snapchat — that's where she shows now hesitance to divulging super personal glimpses of her life, even if it isn't on purpose. On Thursday, for instance, Teigen captured Luna's first "step" on Snapchat accidentally — and it's simultaneously the realest and sweetest thing ever.
Teigen wasn't necessarily trying to capture her daughter's first step, of course. Instead, Teigen was Snapchatting to show off Luna's adorable outfit — a onesie with the words "Top Ramen" written on a heart shaped like ramen noodles on her bum (seriously — where can I get one of those onesies for myself?). But in the midst of snapping Luna's super cute outfit, little Luna took a tiny step forward with her right foot, and Teigen's reaction — cut off by the 10 second recording time — was understandably priceless.
"Did I just get your first step?" Teigen asks in the video, sounding almost shocked that yes, that really did just happen. Typical kids, right? Just when you think you're recording one thing, it turns out that you're capturing a major milestone in your child's life. (Thank you, Snapchat.)
At 11 months old, little Luna is already accomplishing quite a bit for herself in 2017. Just last week, Teigen captured Luna's first word on camera — cat, of course — and on the same day, Luna's hair was officially long enough to hold a bow. Now, one week later, Luna is taking her first step — and it won't be long until she goes completely mobile (watch out, mom and dad). When Luna does start walking she'll more than likely be doing it in style, too (she is a proud owner of a pair of baby Yeezys, after all).
Seriously, it seems like just yesterday that Teigen and Legend were announcing Luna's birth: Last April, the couple welcomed their daughter into the world and became the happy parents of one entertaining little bundle. Since then, the proud parents have captured some pretty great moments of their daughter on social media — from modeling costume options on Halloween to capturing the first time Luna crawled.
By sharing those moments with the world, Teigen and Legend are preserving precious memories of their daughter and also giving fans a little something to brighten up their day. Luna's ramen noodle onesie, as well as her first "step" captured on camera, will undoubtedly do just that.