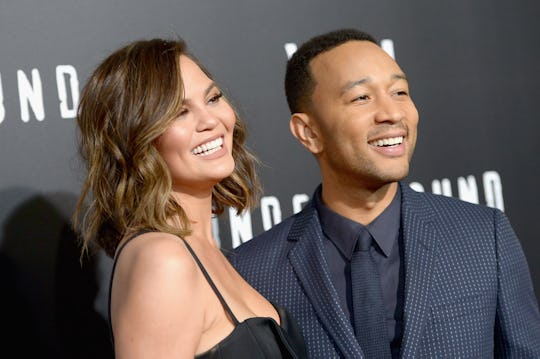 Charley Gallay/Getty Images Entertainment/Getty Images
Chrissy Teigen Confirmed She & John Legend Are Trying For Baby No. 2
In the past, John Legend and Chrissy Teigen have spoken openly about wanting more kids — but the power couple has always said they weren't exactly sure when they'd start adding on to their brood. Just this week, however, Teigen confirmed that she's trying for another baby with Legend soon, which explains why their family has been enjoying plenty of travel and time with friends recently.
"A lot of stuff's about to come," Teigen told Cosmopolitan in an interview published on Monday. "We're going to try to have a child. This is for us to try to get in the zone of 'let's travel, let's be away together, let's see our closest friends,' and then we're going to have to do something super hard, which is the IVF process, all over again."
In January, Legend told Entertainment Tonight that they wanted to have "at least a couple more" kids, but that he wasn't sure of their "timing" yet. Teigen was on board as well, telling Entertainment Tonight, "Oh my God, a little boy is next for sure."
In the same interview with Cosmopolitan, Teigen also addressed another challenge she was tackling: her drinking. If she stops drinking cold turkey in the next while, it may be because she's successfully pregnant — but it's more likely that it's because Teigen is re-evaluating her relationship with alcohol.
"I used to think it was kind of nutty to have to go totally sober, but now I get it," she told Cosmopolitan. She explained that she hadn't had a single drink while on vacation in Bali, and had felt amazing as a result. "I was, point blank, just drinking too much. ... I have to fix myself."
Teigen is also currently on medication for postpartum anxiety and depression, and she detailed how alcohol was "the least thing that helps" — but that it's a hard thing to escape, considering her lifestyle in Los Angeles. "Imagine everything we have," Teigen told Cosmopolitan. "Everything is there, always. I don't know how to go to an awards show and not drink."
This isn't the first time Teigen's spoken about quitting drinking. In 2013, she tweeted that she was going sober for a month. "Alcohol just not as fun and relaxing as it used to be," she tweeted. "Want to feel really truly good again!"
Serious kudos to Teigen for being so open about her life — from her challenges with in vitro fertilization to her struggles with alcohol. As a celebrity who is loved by so many, her candidness has a way of opening up the conversation for the public, whether that's about their own journeys with fertility, postpartum depression, or drinking. Here's a huge hat tip to Teigen for knowing exactly what she wants and for going after it.