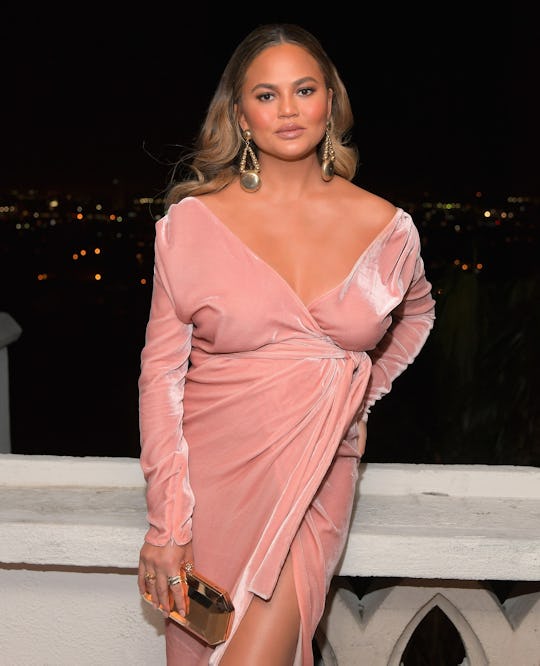 Charley Gallay/Getty Images Entertainment/Getty Images
Chrissy Teigen Hits Back At People Freaking Out She'd Break Luna's Legs In This Photo
Chrissy Teigen — model, mom, and clap back expert. These days, it seems that no matter what Teigen does with her young daughter, Luna, people are quick to jump down her throat to criticize what she's doing wrong (and sometimes what she's doing right). On Saturday, Teigen fired back at people over this photo of her riding a slide with Luna and her comeback couldn't be more on-brand.
Teigen shared the adorable photo of her and Luna headed down the slide to her Instagram account on Saturday, for her millions of followers to see. In the photo, Luna sitting on her mom's lap, Teigen looks excited while her little girl looks a little apprehensive to be sitting on the slide. "Weeeee are very skeptical of slides right now," Teigen captioned the photo.
But, as people quickly commented, there's something amiss in the photo: Luna is sitting in Teigen's lap and her leg appears to not be in a straight position. While many just commented on how cute Teigen and Luna looked together, some people took to the comments to tell Teigen that this position was not correct and warned her that Luna's legs could be broken because of it. Other people shared their own personal accounts of how they knew of a child who broke their leg while sitting in this position.
"As an ED nurse, kids break their own legs on slides all the time," one commenter wrote, warning Teigen. "I actually fractured my 3-year-old's femur when I was holding her while going down a twisty slide," another wrote. "Just a heads up that this can break your little one's leg!," one commenter added.
The comments about Teigen's position holding her child must have become too much for Teigen. Because she took to the comment section of her post to fire back at the people who were criticizing her with a little bit of healthy sarcasm. "Wish you guys would have told me about the leg thing earlier," Teigen wrote, joking around with her followers. "They broke."
But Teigen assured her followers that Luna was OK and the photo just happened to capture the wrong moment. "Heads up photos are a one second in time, I was lifting her onto my lap," Teigen explained to her followers.
Teigen shouldn't have to defend herself for every single thing she does and shares on social media. She is consistently mom-shamed for the silliest things — from leaving her daughter with a babysitter to go on a date with her husband to the way she held her daughter. Teigen doesn't owe an explanation to her followers — motherhood is trial and error and she makes the best decisions for her daughter based on what she thinks is right. Every mom learns this differently, she doesn't need unsolicited help from millions of people chiming in. And in the past, Teigen has said that the shaming hurts. "It gets to me every time," she told TODAY in August.
It's important to note that these commenters drawing attention to this possible hazard can happen and experts have warned against the way Teigen is holding her daughter on the slide. Recent research presented at the American Academy of Pediatrics National Conference and Exhibition found that a majority of slide injury came from children going down the slide on their parent's lap. Injury is caused by the size and weight of the adult, according to the AAP, and the force and momentum generated by the adult with the child on their lap. The study's lead researcher, Dr. Charles Jennissen, Clinical Professor and Pediatric Emergency Medicine Staff Physician said in the study's press release:
Many parents and caregivers go down a slide with a young child on their lap without giving it a second thought. And in most cases I have seen, the parents had no idea that doing so could possibly give their child such a significant injury. They often say they would have never done it, if they had known.
Luckily, according to Teigen, Luna was not injured. Although it seems like commenters were just looking out for Teigen and her daughter — and perhaps cautioning her fans liking the photo — she knows how to be a parent to Luna and when she shares moments of motherhood with her fans, it's not an open invitation for advice. It's as simple as that.
Check out Romper's new video series, Romper's Doula Diaries:
Watch full episodes of Romper's Doula Diaries on Facebook Watch.