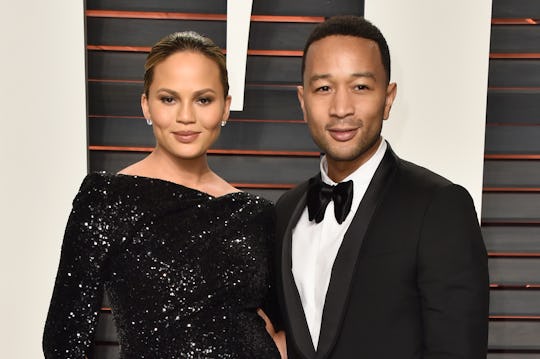 Pascal Le Segretain/Getty Images Entertainment/Getty Images
Chrissy Teigen Gave Birth & Immediately Started Tweeting Jokes Again
She may be a sleep-deprived new mom, but her sense of humor is still totally on point. After announcing the birth of her daughter, Luna Simone Stephens, Sunday, Chrissy Teigen tweeted a post-birth update about John Legend, and unsurprisingly, it was hilarious. According to Us Weekly, The model and Lip Sync Battle commentator took to Twitter to thank fans for their well-wishes, and joked, "to everyone asking, John is healing perfectly." She then followed up by saying, "Thank you for all the well wishes!!! we are so happy and excited! i dunno what to tweet now. does my twitter change? this is so awkward." (Change nothing, Chrissy. Everyone loves you just as you are!)
Both Teigen and Legend announced their daughter's arrival on social media, but waited a few days after her birth to do so. Legend shared on Twitter that their "new love" Luna was born on Thursday, April 14, while Teigen posted a pic of their newborn daughter's weight — 6 pounds 11 ounces — to Instagram and wrote, "She's here! Luna Simon Stephens, we are so in love with you! And sleepy. Very sleepy."
If Teigen does opt to change anything about her Twitter style now that she's a mom, hopefully it won't be her willingness to share baby photos! Before giving birth, Teigen told People that she's "not going to hide" on social media once her daughter arrives. And that is great news for her fans, because honestly, you know that Luna is pretty much destined to be the cutest baby ever.
Teigen and Legend might be busy trying to adjust to all the surprises of new parenthood, but one thing that absolutely wasn't a surprise? That their baby would be a girl. The refreshingly honest couple has been very open about the struggle they faced trying to conceive — and even revealed that they specifically chose to be implanted with a female embryo when undergoing IVF. Teigen told People that, although they also want to have a boy together, she really loved the idea of having a daughter with Legend, and since she had the option to choose, she did:
Not only am I having a girl, but I picked the girl from her little embryo. I picked her and was like, 'Let's put in the girl.'
I think I was most excited and allured by the fact that John would be the best father to a little girl. That excited me. It excited me to see...just the thought of seeing him with a little girl. I think he deserves a little girl. I think he deserves that bond.
From the sounds of it though, it might not be long until little Luna gets her baby brother. According to E! News, Teigen has said she wants a big brood:
I think I'll probably be pregnant all through my 30s. I've always pictured everyone around the table for the holidays and together once a week. It'll be heartbreaking if it doesn't end up happening, but hopefully it will. We've got some embryos on hold.
Hopefully that will also mean plenty more funny parenting tweets to come.