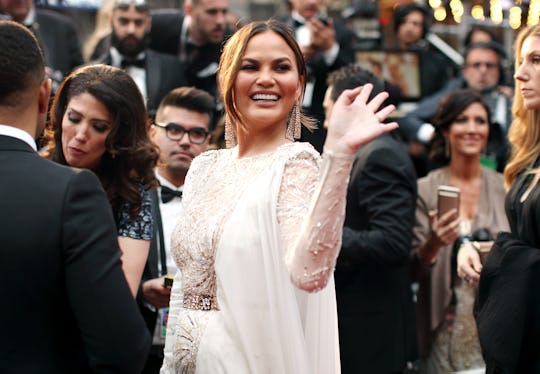 Christopher Polk/Getty Images Entertainment/Getty Images
Chrissy Teigen Gave Luna An Oscar
Oscar night is finally here, and one award has already been given out. Well, not really, but if there was an Academy Award for Most Precious Parents, John Legend and Chrissy Teigen would totally be up for it. In a pre-show tweet, Chrissy Teigen gave daughter Luna an Oscar, and it was absolutely adorable.
The statue is more than likely Legend's, who won the Academy Award for Best Original Song in 2015 for his song "Glory" from the film Selma. Teigen and Legend met back in 2007 on the set of Legend's music video for "Stereo," from his album Once Again. Although many Hollywood love stories (both on screen and off) are called "love at first sight", Legend told Los Angeles Confidential Magazine a few years back that with Teigen, that wasn't exactly how their relationship went down:
I wasn't like, 'This is the woman I'm going to marry' from day one. For me I'm the kind of person who needs to grow into that feeling. It was probably a couple of years in when I could already see us being together forever.
Teigen totally agreed, telling Cosmopolitan:
I'm not going to lie. We hooked up. [When he went on tour] I left him be himself for a while. The worst thing you can do is try to lock someone like that down early on, then have them think, 'There's so much more out there" I played it cool for a long time. Never once did I ask, 'What are we?' Marriage was never my goal, because I've never been very traditional. I was just happy to be with him.
Even still, the couple married in 2013, and welcomed their first child, a daughter named Luna, in 2016. Luna makes regular appearances on the couple's social media accounts (she's already practically Instagram famous, considering how often she appears with Teigen).
In a recent interview with Entertainment Tonight, Legend said that his 9-month-old daughter is of course, so much fun, but that he's not sure which of her parents she's more like: "It's hard to say [who I see more of in her]. She hasn't said any words yet. When she starts talking, we'll start to know who she is." He added that Luna is standing up now, but hasn't started walking just yet.
The couple conceived Luna with help from IVF, and actually chose which embryo they wanted to have implanted. At the Screen Actors Guild Awards last month, Teigen said in an interview that she and Legend definitely want another baby, and that since they'll be going the IVF route again, they'll definitely be having a boy. Later on Twitter, she explained what she meant:
Legend is set to perform two Oscar-nominated songs from La-La-Land during the Academy Awards this year, but since the ceremony usually runs pretty late, little Luna will likely already be in bed by the time her dad takes the stage.