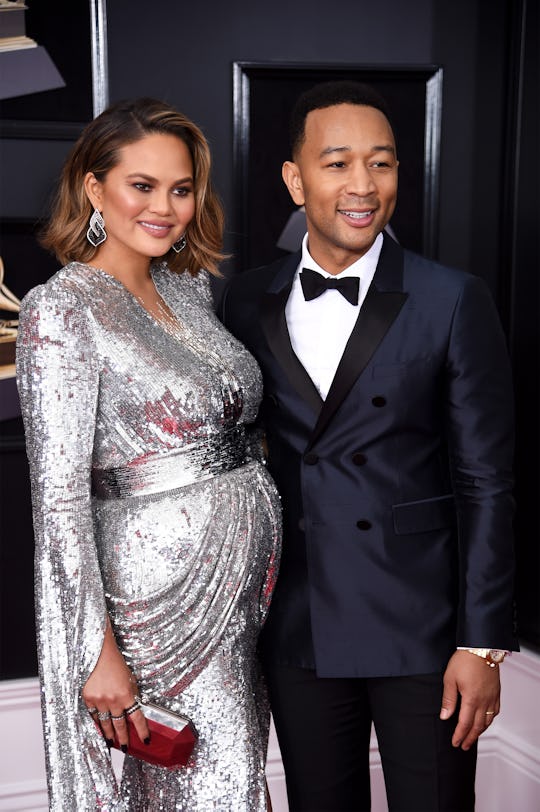 Dimitrios Kambouris/Getty Images Entertainment/Getty Images
Chrissy Teigen Opens Up About How She's Already Planning To Have More Kids
Chrissy Teigen might be well into her second pregnancy, but she's already planning ahead to her next few kids. Speaking to People recently, Teigen revealed she harvested more embryos during her second round of in vitro fertilization, explaining that she and husband John Legend wanted to "gather as many [embryos] as possible" the second time around.
In her usual candid way, Teigen explained some of the benefits and challenges that come with IVF. "You do the whole process again to try to get as many embryos and eggs as possible," she said about her second pregnancy using IVF, making it clear that she chose to undergo the entire process again instead of simply inserting her last remaining embryo from her first round of IVF. "Everyone is freezing everything and then you make the embryos out of what you freeze and try to make viable, perfect embryos."
The thing is, of course, that not all embryos harvested during the IVF process are viable — and doctors can and do select embryos that have the highest chance of surviving and growing into healthy babies. "These days, science is so incredible — we have family illnesses and there's a way to be able to see that something might have a chance of that," Teigen told People.
The process Teigen was talking about, preimplantation genetic diagnosis, helps doctors identify any genetic defects in embryos. Doctors can see if any embryos have inherited genes associated with genetic or chromosomal disorders, and select the embryos free from any markers.
"For me, I just want to gather as many [embryos] as possible. I don't want to do this again for the rest of my life," Teigen told People of her decision to harvest more embryos so soon after the first round. "It'd be nice to get a great batch of beautiful, perfect embryos and keep trying so we did it again."
Teigen's second round of embryo-harvesting shouldn't be too surprising for those who have been following Teigen and Legend's pregnancy journey, though.
"The number of embryos we have left is not matching the number of people I want at my dinner table, so I'll have to do it again," she told People back in 2016. She continued:
I wish I had frozen my eggs earlier. We have a few more on ice. Who knows what will work? ... It would have been better if I had made a ton of embryos when I was already doing the shots. Because now I have to do the shot thing again. I think about that.
IVF and preimplantation genetic diagnosis, unfortunately, still carry plenty of stigma in society, quite a bit of which Teigen has personally faced: after she revealed that she and Legend chose to implant a baby girl during her first pregnancy in 2016, she received a torrent of backlash from strangers online. (In typical Teigen clapback style, of course, she quickly tweeted in response: "I also picked the embryo with a taste for bacon, a knack for magic and size 7 feet so she can always find shoes." Because Teigen is kind of wonderful like that.)
By talking about IVF and infertility so openly, though, Teigen helps break down that stigma — and open up the conversation to everyone. Not only that, but talking about it has helped Teigen, as well. "It was so cool to hear from everybody," she told People after sharing her infertility struggles originally. She continued:
[Some people] had tried for four or five years, some people were saying 'this worked' or 'that worked.' It's like a different little world. And it's interesting to know because in my world I thought everyone was just getting pregnant … I assumed that it was happening that way for everybody. But no, people really work at it.
Keep making the world a better, more well-informed, and more open place, Teigen.
Check out Romper's new video series, Bearing The Motherload, where disagreeing parents from different sides of an issue sit down with a mediator and talk about how to support (and not judge) each other's parenting perspectives. New episodes air Mondays on Facebook.