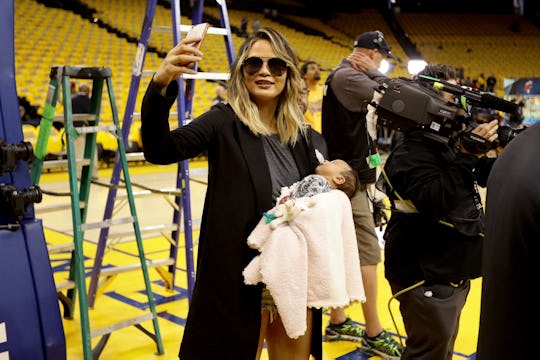 Ezra Shaw/Getty Images Entertainment/Getty Images
Chrissy Teigen Shares One Of Luna's First Words
There is probably no cuter celebrity family than John Legend, Chrissy Teigen, and their baby daughter Luna. Every time the couple shares pictures and video of Luna, she gets cuter and cuter, and now she's hit a big milestone: her first word. While most parents would expect a baby's first words to be "mama" or "dada," that might not have been the case for Luna. Chrissy Teigen Instagrammed one of Luna's first words, and it will make fans die of happiness.
Luna was born on April 16, 2016, so she's 11 months old. Babies usually say their first words at 11 to 14 months, according to Parenting, so it looks like Luna is right on time. Teigen has been open about sharing many of Luna's firsts — even her first bite of green beans, so naturally, of course she documented the big moment. Teigen posted a video of Luna eating in her high chair, and she and husband Legend spotted a cat nearby.
"What is that?," Teigen asked, and she and Legend say the word cat.
"Cat," Luna said in the video, and Teigen can be heard gasping and clapping. Teigen captioned the video with "Ah!!! So many firsts". It's unclear whether this was the first time Luna said cat or if it was actually Luna's first word. Still, it was adorable.
It actually makes sense that one of Luna's first words was an animal, because Luna seems to be an animal lover, just like her mother. Just days ago, Teigen posted a video to Instagram of Luna petting a rabbit (and she's so calm around the rabbit she apparently poops!). Luna is also always playing with the four dogs her parents own. Last month, Teigen also posted a picture of she and Luna at an aquarium in Houston, Texas, and Luna appears to be fascinated by the fish.
What may be more out of the ordinary about Luna's first words is that they were said in Morocco. Recently, Teigen and Legend took a trip to Marrakesh, Morocco, and both shared pictures and videos of their adventures with their rosy-cheeked baby on social media.
"She seems to be able to handle a lot of different environments because she's traveled a lot with us already," Legend told People last year. "We've been to Italy, and to France and New York, and Mexico with her, and so she's traveled quite a lot with us already. She's been able to handle all that so hopefully we're getting her prepared for the kind of life we live."
But that doesn't mean the family always lives a charmed life. Teigen recently opened up to Glamour magazine about her postpartum depression. But even though Teigen has found herself exhausted by anxiety, she won't let it get in the way of being the best mom she can.
I always want to have enough energy for Luna — to run up the stairs with her, to have tea parties with her. As she gets older, she's becoming more and more fun. Her eyes are getting so wide, and I want to be there for those wide eyes. And I will be.
And I'm sure Teigen and Legend are excited to hear more words from Luna, who apparently takes after her mom's sassy side. Or as Teigen told Glamour: "She is somehow exactly me, exactly John, and exactly herself. I adore her."