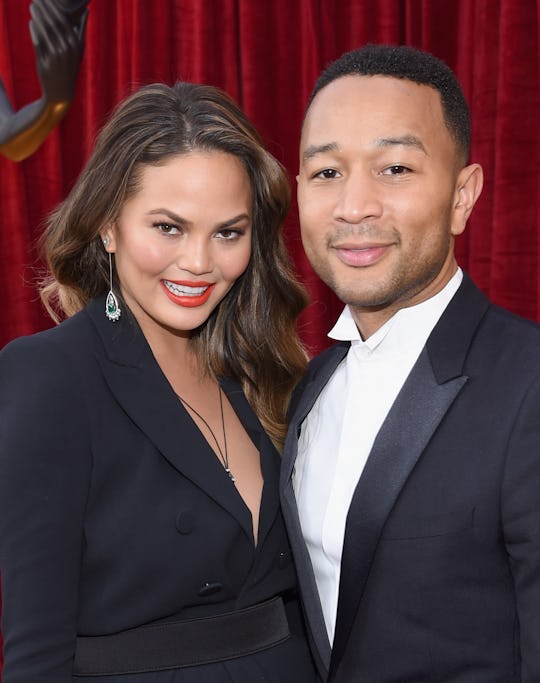 Dimitrios Kambouris/Getty Images Entertainment/Getty Images
Chrissy Teigen Announces Her 2nd Pregnancy With The Cutest Instagram Post
Lovers of adorable baby Instagrams have a lot to be thankful for this Thanksgiving, because Chrissy Teigen is pregnant with baby number two. And, true to form, the supermodel and cookbook author unveiled the news in the most adorable way possible. Well, it's actually even better than that. Her baby daughter, Luna, filled the family's legions of fans in on the revelation that she will soon have a baby brother or sister in the sweetest Instagram video ever posted on Tuesday afternoon. Honestly, it's all a lot for fans to digest: First, there's Luna's adorableness, and then there's the fact that it will soon be multiplied by two.
The video came seemingly out of nowhere as what can only be described as an early Christmas to fans. In it, Teigen, lying on a couch and nestled under a blanket while filming a 19-month-old Luna climbing near her tummy, asks her daughter, "What's in here?" "Baby," the little girl answers while patting her mom's belly. And just at the moment that the hundreds of thousands (and counting) of Teigen diehards who watched the video in the minutes since it went up probably started screaming in delight and surprise, Luna's dad and Teigen's husband, John Legend, can be heard laughing in the background.
"it's John's!" Teigen captioned the post.
Teigen has been open about her struggles with infertility and ultimately conceiving Luna through IVF. Shortly before her daughter was born in April 2016, Teigen made it public that she had specifically chosen to have a girl first, telling People, "Not only am I having a girl, but I picked the girl from her little embryo." And she also had made it clear that she has no intention of stopping at one. The Lip Sync Battle commentator actually plans to "be pregnant all through [her] 30s," as she said in March 2016, according to SELF:
I've always pictured everyone around the table for the holidays and together once a week. It will be heartbreaking if it doesn't end up happening, but hopefully it will. We've got some embryos on hold.
So, it's a happy day for fans to know that Teigen is now that much closer to achieving that dream of a big family. And any casual follower of Teigen on Instagram knows what that means: The internet is in store for lots and lots of too-cute-for-words baby pics — á la the time Luna completed her very first chore, the time she noshed on room service from her high chair, or the time she sampled her mom's ribs recipe.
Even this early in the game, there's even some indication about the sex of the baby-to-be. In a red carpet interview with Entertainment Tonight at the 28th Annual Producers Guild Awards back in January, the 31-year-old said in response to a question about possibly having more kids that a boy would "for sure" be next. Later, she tweeted to clarify that she was not actually pregnant, but that she and Legend have a pretty good idea of the sex of their next kid nonetheless. "Since this is coming up again, I said our next baby would be a boy because that is the embryo we have left," she wrote. "A boy. So. Yeah."
In response to the "it's John's" caption, Legend jokingly commented on the post that "Maury will have the final word on this." But it certainly doesn't seem as though there's much to disturb this family's well-deserved bliss in reality. Best of all, fans can surely expect many happy updates in the weeks and months to come as the countdown to baby number two commences.
Check out Romper's new video series, Romper's Doula Diaries:
Watch full episodes of Romper's Doula Diaries on Facebook Watch.