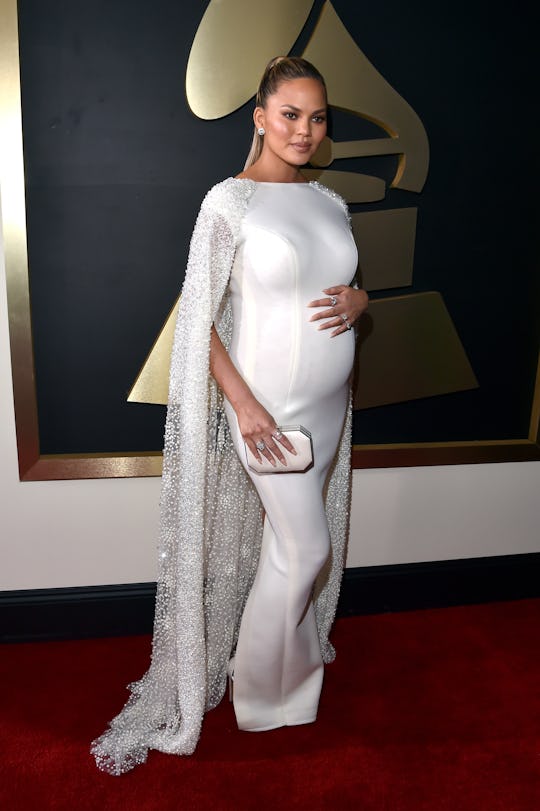 Lester Cohen/WireImage/Getty Images
Chrissy Teigen Is Preparing To Be Shamed For Her Parenting Choices & It's Judgment Too Many Moms Face
Chrissy Teigen has won over millions of women for being so much more than just a pretty face and gorgeous bod. Teigen is also smart as hell, fearlessly honest, and pretty darn hilarious, which is why I am so excited to watch Mrs. Legend take on her next gig — motherhood — with her signature cheeky confidence. But it's a pretty sad commentary on the hater-aid moms are forced to drink when badass, pregnant Chrissy Teigen is preparing to be shamed for her parenting choices. Because, she knows just as well as any mother out there (perhaps more so because of her social media experience), that no mother gets to escape being judged like a contestant on The Voice for each and every thing she does while caring for her offspring.
From what our kids wear to how we feed, talk to, and teach them, every single thing a mother does is up for debate. Forget about working outside versus inside the house — that's just a minefield. Breastfeeding, baby wearing, co-sleeping, attachment parenting, preschool — once you pop out a human life, mothers quickly learn they're just not autonomous people anymore. Instead, they're moms now, and, as such, every single aspect of their lives, their families, and their personal choices are up for debate — especially if they dare to post anything about their parenting choices to social media. It's sad that Teigen hasn't even given birth yet and she's already preparing for judgment. But with two Tweets, she's put the parenting police on notice.
Like I said, it's going to be fun to watch Teigen come into her own as a mother. And, as she does, women and mothers everywhere will gain a fierce, mouthy ally who isn't about to let a bunch of haters tell her how it's done.
Teigen speaking up even before giving birth highlights the judgment that too many moms face, but she also made it crystal clear that she will not take it lying down.