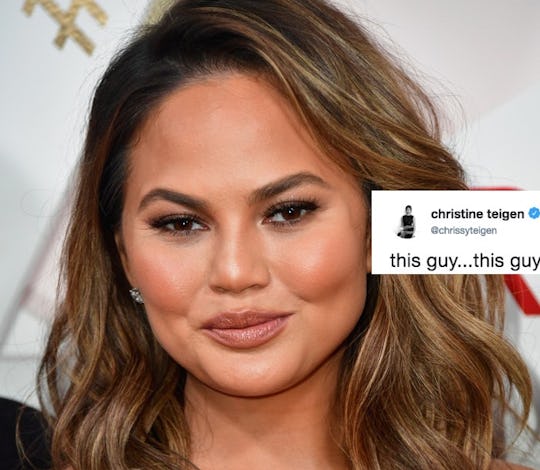 Frazer Harrison/Getty Images Entertainment/Getty Images
Chrissy Teigen Has Had Enough Of Meghan Markle's Dad's Drama & Twitter Is Right There With Her
If there's one celeb you can count on to speak her mind, it's Chrissy Teigen. She's definitely not known for holding back when something gets on her nerves, and, right now, Chrissy Teigen is so over Meghan Markle's dad's "embarrassing" comments about the Duchess of Sussex and guess what? Twitter totally agrees.
Meghan Markle's dad, Thomas Markle Sr., has been making headlines recently for his comments about his daughter. Once, after Prince Harry made a comment about the royal family being the "family she never had," according to the Dayton Daily News, both Markle's father and half-brother took to the media to express their feelings over it. Then, when Markle married Prince Harry in May 2018, her father was missing from the wedding, allegedly for health reasons, he cropped up in headlines yet again.
However, before that, Thomas Markle, reportedly told TMZ that he thought it was best to avoid his daughter's wedding, since he didn't want to cause further embarrassment to his daughter and the royal family. The months leading up to Markle's wedding certainly revealed just how strained her relationship with her father seems to be, but it appears that tension is still carrying over.
Recently, Markle Sr. told the Daily Mail in an interview that he hasn't spoken to his daughter in 10 weeks and his daughter has allegedly changed all her phone numbers, as punishment for his paparazzi photo scandal. That interview, it seemed, was the final straw for Teigen, who took to her usual platform: Twitter.
"this guy...this guy sucks. what is wrong with him? let your daughter be happy, please, this is embarrassing," Teigen tweeted, with screenshots of Markle Sr.'s interview with the Daily Mail attached.
In the interview, Markle Sr. spoke about how the palace was allegedly attempting to silence him and went so far as to invoke Princess Diana's name. As the Daily Mail reported, Markle Sr. speculated that "Princess Diana would have 'loathed' the way his daughter's new family has ostracized him."
It's a low blow, considering that Princess Diana is Prince Harry's mother. When Princess Diana died, Prince Harry was only 12 years old. Markle Sr. hasn't kept too quiet about his apparent dislike for Prince Harry, with the Daily Mail screenshots attached to Teigen's tweet noting "he doesn't care if Prince Harry never speaks to him again".
Other Twitter users were quick to comment under Teigen's tweet, offering their own criticisms.
One user tweeted, "I'm just gonna leave this here" with an attached graphic reading, "Some of the hardest people to cut off are family members. But sometimes they are the main ones that need to go."
Some Twitter users speculated about whether or not Markle Sr. had a relationship with his daughter before her engagement to Prince Harry. "It's uncomfortable to read this. Both him and Meghan's half sister are embarrassing themselves," one person tweeted.
One person noted that Markle Sr. needed to stop turning to the press with every issue, with another adding that Markle probably realized he can't be trusted because of this. "He'll go right back to the press to repeat their private conversations in an interview..." they tweeted.
Some, however, were also critiquing the media outlets that continue offering Markle Sr. a platform for those interviews.
The entire situation surrounding Markle and her family is, honestly, messy. Watching as a father is given a continued platform to speak about his daughter who seems to have made her position on their relationship clear is pretty tough. It's a reminder of the entitlement people feel towards family, but also of how private affairs get aired out for public consumption.
In all of this, though, it is good to see other women coming to back up Markle.
"Keep living your best life Meghan," one Twitter user even wrote under Teigen's original tweet.
The "embarrassing" comments may not go away anytime soon, but props to Chrissy Teigen for opening up an important conversation. Nobody has the right to act this wild, not even a parent.