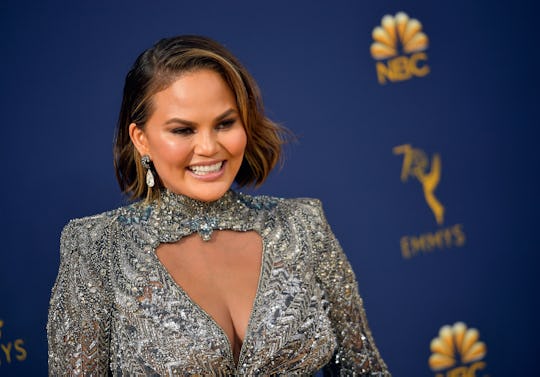 Matt Winkelmeyer/Getty Images Entertainment/Getty Images
Chrissy Teigen Is Writing A Cookbook For Kids & Moms Are Going To Love It
Chrissy Teigen may be a master of many things: modeling, marriage, and Twitter jokes amongst them, but her true passion is cooking. In the past few years, Teigen has released two separate cookbooks for adults and, most recently, an entire line of cookware to accompany it via Target. Though all of that is extremely exciting and gives fans tons to look forward to, this latest development may be the most enticing of all: Chrissy Teigen is writing a cookbook for kids, and it's pretty much what every mom needs.
Cooking for little ones can be challenging. Between dietary restrictions, undeveloped palates, picky eaters, and trying to get in some nutrients here and there, trying to keep your entire family well fed is not always a simple task. That's where Teigen comes in. People reported that the announcement came during her #CRAVINGSFEST at the New York City Wine and Food Festival this past Saturday. A fan inquired whether or not she'd be open to making a cookbook for kids, and she not only confirmed that she was, but that she also wants to make it awesome. (I'm confident that won't be an issue.)
"I really wanna make it awesome," People reported she shared on stage. "I know kids have really simple palates and we all want to make them more refined, but they're just kids, so we're gonna do stuff that kids are going to love."
Teigen continued: "It's going to be so good. Hopefully it's Luna-approved."
Though this will be the model and chef's first endeavor into designing kid-friendly foods (which is, by the way, an absolutely amazing idea) it is not the first time Teigen has opened up about the challenges of cooking at home whilst also handling two small children. In a recent interview with Bon Appetit about her latest book, Cravings: Hungry for More, Teigen opened up about how she and her husband, John Legend, make it work by eating dinner late, after their daughter Luna is already asleep.
Teigen shared:
I think that since [Luna] has been so good at sleeping pretty much her whole life, we always knew that at 7:30 we would be able to kind of shut off, open the bottle of wine, and really enjoy making a meal together. We do eat really late, and I think we're lucky for that. We would never be able to eat dinner at 8:00. We've never been those people. Knowing that when they're gone, they're actually asleep and out of our hair, that's really something to look forward to throughout the day. Not that we don't completely enjoy the time with them all day.
She continued, saying that John cooked "seven days a week" while she was pregnant, and that he's a pretty good cook in his own right.
Though there's not much additional info available about what may be included in the new book, it's safe to assume that Teigen will likely make many of the recipes picky-eater-friendly, as she's been transparent about her struggles with getting her daughter Luna to eat what she cooks.
Entertainment Tonight reported Teigen said: "She loves my mom's scalloped potatoes, she loves real food, but she will not eat my own food, which kind of breaks my heart... I take it personally!" She continued: "If John feeds her, she'll be like 'Dada! Dada!' and she'll eat anything! Moms, you know there is just no getting around it. They just love their daddy."
That's a totally normal way to feel, and TBH, a struggle to which so many parents will be able to relate. Hopefully, the release date for the new book will be sooner rather than later.