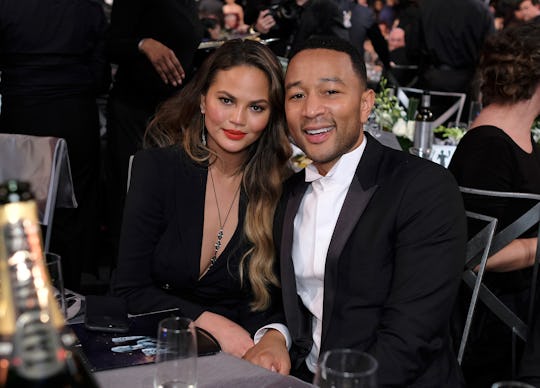 Dimitrios Kambouris/Getty Images Entertainment/Getty Images
Chrissy Teigen Says She Wants To Have A Son
While strutting on the red carpet of Sunday night's Screen Actor's Guild Awardsm, one of Hollywood's favorite couples just dished some major baby related news: Chrissy Teigen said she wants to have a son with John Legend next.
The couple already has a nine month old daughter, Luna, who was conceived with the help of IVF. Teigen and Legend told E! News' Giuliana Rancic during a red carpet interview that they're planning to have a son next. How? Through the science of IVF, which will allow the couple to choose a specific embryo to implant (they chose Luna, too!).
Teigen has been open about her struggle with infertility and decision to use IVF to conceive. She told SELF in an interview last year that her trouble getting pregnant came as a surprise, and that IVF was kind of the answer to her prayers, as it is for a lot of couples:
The big question was why this wasn't working for us when I was young and he was healthy. I thought, people get pregnant by accident all the time! How does this happen?
When she explained that she had specifically chosen a female embryo, she got some backlash, but maintained it was fully within her right to have done so (and managed to keep her sense of humor, even as the trolls descended).
It's true: IVF does allow parents to pick which embryos get implanted. Some parents definitely make their choice based on which embryos are female and which are male. The technology that makes this possible is called preimplantic genetic diagnosis testing and it's been around for at least a decade. Originally, it was intended to help doctors figure out if embryos were carrying potentially fatal genetic diseases, like Tay-Sachs. Of course, the technology has advanced and can tell prospective parents quite a bit more about the embryo — including its sex.
Teigen and Legend have said before that they planned to have more children after Luna using IVF, which is not a decision parents take likely. It's a long, involved, and expensive process — and as many parents know, it doesn't always work either.
No matter when their baby plans come to fruition, we can count on Teigen to continue to be open and honest about her experience, the challenges and the joys which are known to many families the world over who have struggled with infertility and found hope in IVF.