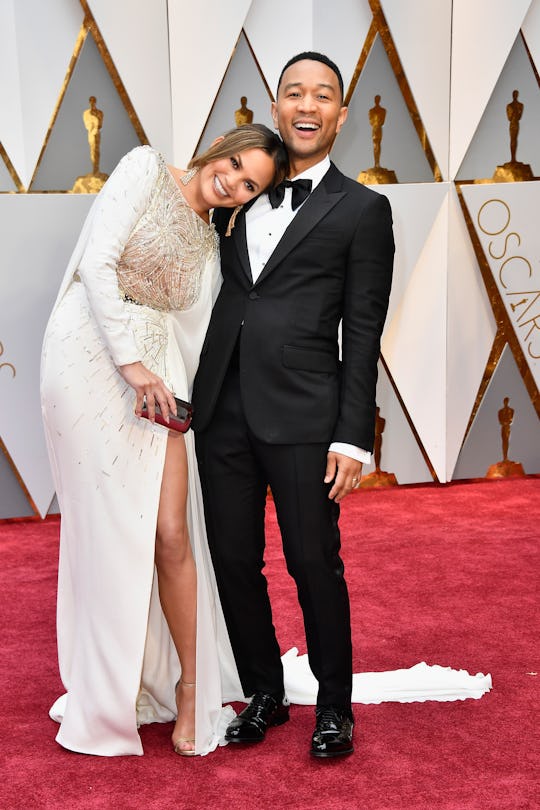 Frazer Harrison/Getty Images Entertainment/Getty Images
Chrissy Teigen & John Legend Are #CoupleGoals
Surprising approximately no one, Chrissy Teigen and John Legend on the 2017 Oscars red carpet Sunday night were complete couple goals, and that's really nothing new. The duo, dressed in glimmering white and a fitted black tuxedo, respectively, not only looked fierce, their love was totally on fire as well, as usual. During their E! Red Carpet interview, the couple were all sass while talking to Ryan Seacrest, with Teigen even teasing that Legend was more nervous than he let on about his performance later that night.
Obviously the two are a staple in just about every #RelationshipGoals tweet out there, with their post-Grammys Snapchats becoming a trending topic on Twitter just a few short weeks ago. Legend was removing the many necklaces from a seemingly inebriated Teigen, sparking the interest of thousand across the world. And the Oscars were no different. The two had many meme and tweet-worthy moments, even just from the red carpet. Teigen's personality was shinning bright, and Legend's adoring smile was ever-present, of course. "You look like a goddess," Legend told Teigen at one point, melting everyone's hearts and outdoing every significant other ever.
Honestly, most of the world already wants Teigen and Legend to adopt them, but after Sunday night, it became pretty obvious that anyone who wasn't on the Teigen-Legend bandwagon was quickly hopping on to enjoy the ride.
Teigen has long been hailed as the ultimate Queen of Twitter, but this past week she took #RelationshipGoals to a whole new level when Legend's Twitter account was hacked for a few hours. Instead of offering her condolences for what her husband must be going through, Teigen took a lighter route, instead poking fun at the hacker's bio on Legend's account.
And on the red carpet at the Oscars, Teigen and Legend again brought the heat with their back-and-forth, loving looks, and private moments that had just about everyone feeling the love.
Of course, during the couple's interview with Good Morning America's Michael Strahan, Teigen had to make sure that Legend didn't get that inflated of an ego, making sure Strahan's compliment didn't go straight to his head.
Really, though, the couple's love for each other will always shine bright, no matter what level of sass they're at. It's clear that the two are very much in love, and completely comfortable with each other.
Legend won an Academy Award back in 2015 for Best Original Song, "Glory," for Selma. And while he isn't nominated for any awards tonight, he will be performing the two songs from La La Land that were nominated for awards, "City of Stars," and "Audition (The Fools Who Dream)."
Honestly, Teigen and Legend on the red carpet is basically all the world needs.