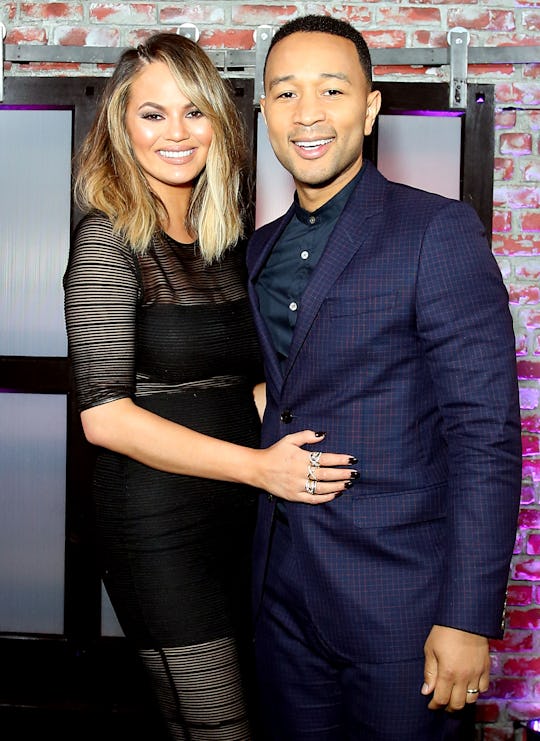 Rachel Murray/Getty Images Entertainment/Getty Images
Chrissy Teigen & John Legend Serenading Luna Is Everything You Dreamed It Would Be
Is there any celebrity parent couple who could possibly represent total #relationshipgoals more than Chrissy Teigen & John Legend? Of course, no relationship is perfect, and surely theirs is much different IRL than what we see through social media. But seriously, these two are gorgeous, talented, totally crazy about each other, and heads over heels for their little girl, Luna. So the Instagram video posted Thursday showing Chrissy Teigen & John Legend serenading Luna by the piano in their home? I mean, it's pretty much exactly as great as you'd expect it to be. Just try to watch it without smiling. Just try.
According to Us Weekly Teigen posted the adorable video to her Instagram feed yesterday, and captioned it, "the never-ending song." In it, Legend can be seen standing at the piano, playing "O Christmas Tree" for his little girl, who looked captivated (if slightly unimpressed) while being held by her mom. Teigen herself rocked Luna and sang along, shouting, "higher!" after each verse to get her husband to kick up the key, and even the couple's dogs got into the action — though it's possibly they were just trying to figure out what all the commotion was about.
But after Legend attempted to keep the sing-along going for another round, Teigen said, "no!" (clearly tired of her daughter's ability to listen to the same Christmas-themed song over and over again without get bored). Although devoted dad Legend didn't seem to mind at all, echoing his recent comments about how much he's been loving the adjustment to fatherhood. According to The Mirror, Legend said that being a dad has given his life a whole new focus:
I'm a brand new father and I'm learning everyday, I think it focuses you, it makes you prioritize what's important. It also makes you think about what kind of world your daughter is going to live in, and how you can make that world better.
Legend elaborated on that sentiment in a recent interview with TIME, when he discussed the ways that becoming a dad has affected his work as a musician, as well as his outlook on life in general:
The inspiration of being a father has helped me write certain songs about what it's like to be embarking on this new journey, so you'll hear that in the new music that I release. I think part of it is thinking about my career and making decisions prioritizing things that matter to me the most because every moment I spend working is a moment I'm not home with my family, so it makes me realize I only want to do things that are important and I think are worth doing. More broadly, you just want the world to be the best place for your kid to grow up in — safe and loving and a place where she can dream anything and be able to do it.
Of course, there's really no such thing as the "perfect" marriage or family, and surely Legend and Teigen have their ups and downs as much as the rest of us. But if there's one thing that seems pretty clear from everything they've said in interviews and shared on social media, it's that they try really, really hard to put each other (and their daughter) first, and that's pretty admirable. And when in doubt, I'm sure regular family sing-a-longs certainly don't hurt.