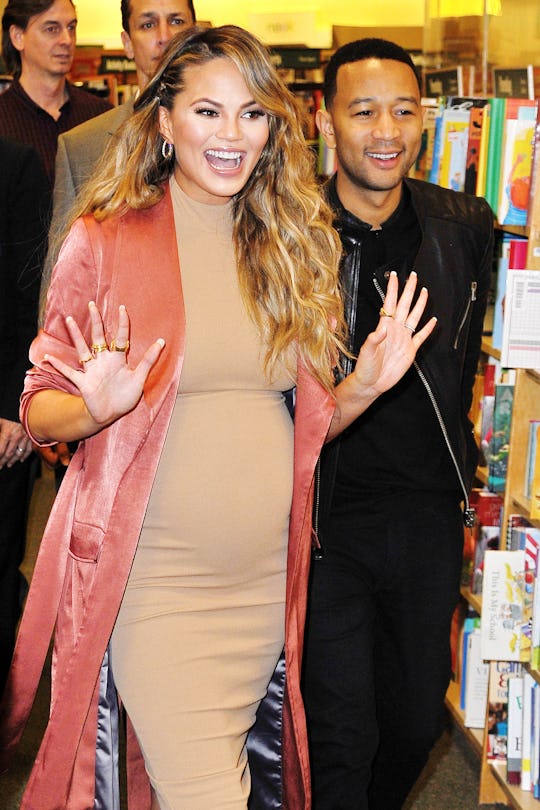 Jerod Harris/Getty Images Entertainment/Getty Images
Chrissy Teigen & John Legend Won't Hide Their Daughter From Social Media & Here's Why
Should parents post pictures of their kids on social media, or is that a part of their life that should remain private? It's a debate most parents have, even parents who are constantly surrounded by paparazzi. Model Chrissy Teigen has already opened herself and husband John Legend up to plenty of criticism online by sharing so many details of their pregnancy with the public — but that hasn't affected their stance on being open and honest. Teigen and John Legend won't hide their daughter from social media, and they explained why to People.
"We're not going to go out of our way to hide because obviously it's such a big part of our lives to show everything: the inside of our homes, my parents living with us, our animals, everything," Teigen told People. "I'm not going to do sneaky back shots of her or anything."
At the same time, she said she didn't want to overload fans with baby pictures. (Although, because people clamor for pictures of Saint West and other famous babies, I think Teigen will have a hard time doing so.) "You don't want to force your kid on anyone either," she said. "It's important for me and John to protect some bits of us, but it's hard to say. I didn't think I would be the person sharing bump photos, so who knows. I could be totally wrong here."
Understandably, Teigen is slightly wary of sharing her child with the world. "I'm not ready for people's comments. That's more of what it is," she told People. "It's not like I don't want to show her or that I'm hiding." It's a legitimate concern. Teigen's straightforward honesty about her pregnancy so far has been refreshing — but it's also earned her the criticism from strangers at times. People have criticized her decision to choose the sex of her baby by using IVF; they have attacked her for eating dyed foods while pregnant; and they have speculated about her baby weight.
The critics haven't stopped Teigen from sharing, however, and lately she's been tweeting and Instagramming away about her new cookbook, Cravings, and dropping (possible) hints about her baby's due date (it's safe to say the couple is expecting the newest addition to their family sometime this spring).
Personally, I'm looking forward to Teigen sharing a bit of her life as a new mom with the world. Not only because her baby is sure to be adorable (I mean, c'mon, John Legend and Chrissy Teigen? The girl is going to be beautiful), but, because Teigen has been an awesome force to reckon with throughout her pregnancy, she'll also continue to be an awesome, outspoken mom once the baby is born.