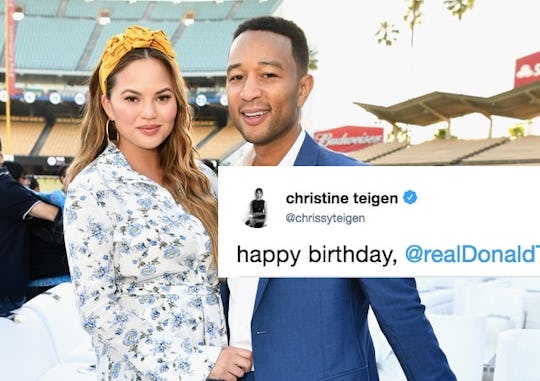 Emma McIntyre/Getty Images Entertainment/Getty Images
Why Chrissy Teigen, John Legend, Luna & Miles Each Donated $72K To The ACLU On Trump's Birthday
Chrissy Teigen and John Legend are both outspoken and passionate about causes close to their hearts, very often using social media to connect with their fans. The couple has proven time and time again that they're not afraid to lead by example or stand up for what they believe in, which is exactly what they did on the POTUS' birthday. Today, Teigen and Legend sent to an important "birthday" message to President Donald Trump that's hopefully given a voice to those who can't get through to him and his administration.
Teigen took to Twitter on Thursday, June 14 — Trump's 72nd birthday — to wish the POTUS a happy birthday, sort of. Teigen didn't pen one of her witty and sharp tweets, rather she revealed something quite extraordinary. In her message, Teigen shared that she and Legend donated $72,000 per each member in their family to the American Civil Liberties Union, a nonprofit organization that works with courts and communities "to defend and preserve the individual rights and liberties guaranteed to all people in this country."
"The president celebrates his 72nd birthday today," Teigen began in her statement on Twitter. "On this auspicious occasion, in order to Make Trump's Birthday Great Again, each member of our family has donated $72,000 to the ACLU."
With their 2-year-old daughter, Luna, and their newborn son, Miles, rounding out the family of four, according to People, this means that Teigen and Legend donated a total of $288,000 to the ACLU on Thursday.
Teigen began her statement to explain why she and Legend were donating money to the ACLU:
John and I are outraged to see and hear the horror stories of immigrant families seeking asylum and refuge in America being ripped apart due to the inhumane policies of the Trump administration. These actions are cruel, anti-family, and go against everything we believe this country should represent. The ACLU is committed to defending the rights and humanity of these vulnerable families. In addition to fighting for immigrants' rights, they're advocating for reproductive rights, voting rights, criminal justice reform, LGBT rights, 1st amendment rights, and holding the Trump administration accountable whenever possible.
Teigen is likely referring to the immigration policy implemented earlier this month by Attorney General Jeff Sessions, according to AlterNet, which allegedly "separates children from their parents upon detention at the border." The White House did not immediately respond to Romper's request for comment on the policy and Teigen's criticism.
In an interview with CBS News last month, Sessions elaborated on the policy and told the news outlet that there was a "zero tolerance policy" for anyone who "crossed the border" from Mexico to the United States "unlawfully." According to CBS News, Sessions said:
We don't want to separate families, but we don't want families to come to the border illegally and attempt to enter this country improperly. The parents are subject to prosecution while children may not be. So, if we do our duty and prosecute those cases, these children inevitably for a short period of time might be in different conditions.
Those "different conditions" that the children are allegedly living in away from their parents is what has come under fire. For example, one shelter in Texas (which is located in a former Walmart), located near the border to Mexico reportedly houses over 1,400 boys between the ages of 10 and 17 who "crossed into the United States unaccompanied or were separated from their parents at the border," as CNN reported.
The ACLU wants to stop this. Cecilia Wang, the ACLU's deputy legal director said, in a statement in April:
Attorney General Sessions' "zero tolerance policy" to criminally prosecute immigrants at the border is the height of irrationality and will cause rampant violations of due process and individual rights to a fair trial. We will certainly seek asylum seekers prosecuted and parents separated from children to be funneled into the criminal justice system....It is a massive waste of taxpayer money that damages the federal criminal justice system.
And, according to its website, the nonprofit believes that if enough people (like Teigen) speak up about how they believe that separating families is wrong, then the Trump administration might "bend to public pressure." Which is why Teigen's "birthday message" to Trump on Thursday is so important. In fact, it's already making a difference; Teigen and her family's donation to the ACLU on Trump's birthday has inspired others to follow suit, tweeting photos of their own donations in reply to Teigen.
But this gift to the ACLU in honor of Trump's birthday isn't out of character for Teigen. She has long been an outspoken critic of the president in the past and has been "calling him out" on Twitter since 2012, according to W Magazine, far before Trump began his presidential campaign. But just last year, the president blocked Teigen on Twitter, according to People, which didn't phase her. "It's been a long time coming," Teigen told People at the time.
Teigen and Legend's donation to the ACLU on Trump's birthday will hopefully bring much-needed awareness to the controversial immigration policies that's capable of hurting far too many families.