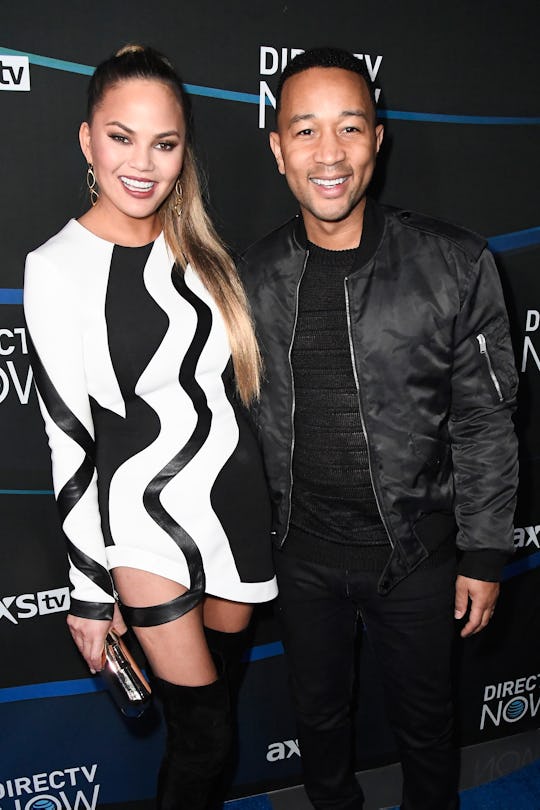 Frazer Harrison/Getty Images Entertainment/Getty Images
This Chrissy & John Super Bowl Gif Is #CoupleGoals
Just when it seemed like it wasn't even possible for Chrissy Teigen and John Legend to get any cuter, they showed up at Super Bowl 51 and somehow found a way to one-up us all (even themselves). The totally envy-inducing couple were seen watching the game at the NRG Stadium in Houston Sunday, Feb. 5 and like pretty much everything else they do, Chrissy Teigen and John Legend's Super Bowl GIF is basically perfection.
In addition to being one-half of the world's cutest couple, Teigen is also a total Twitter queen, so naturally she live-tweeted the game, according to USA Today. What did we learn from tonight's tweets? Teigen and Legend indulged in hot dogs and nachos, because they are obviously all of us, and Teigen also made sure to give a shout out to Lady Gaga, because how can you not love Lady Gaga? But as entertaining as Teigen's tweets always are, the best tweet to come out of their Super Bowl appearance was one she might not even know exists yet. In the super sweet gif, Teigen and Legend can be seen sitting at a table in the stands watching the game, when Legend lovingly puts his arm around his wife and kisses her. It's a totally personal, not-for-the-cameras moment, but it's touching all the same.
It's pretty obvious by now that Legend is totally in love with his wife, and their social media accounts are the definition of #relationshipgoals — possibly even more so now that they've become parents to their daughter, Luna. In addition to being gorgeous and talented and super affectionate with each other pretty much always, Legend and Teigen also always have each other's back. And since Twitter is Teigen's specialty, she's also pretty great at defending herself and her husband from trolls.
And even though Teigen sometimes gets herself in hot water for some of her outspoken tweets, she says Legend totally understands.
Clearly, Legend and Teigen represent the kind of couple we all wish we could be a part of, and at the very least, they help keep the hope alive that true, lasting love is totally possible. And although it's pretty clear that if they ever did attempt to break up, hearts around the globe would be shattered, Teigen had the perfect answer for why her fans shouldn't worry. In response to one Twitter user's concern that she and Legend might one day divorce, Teigen simply wrote, "too lazy. Hate paperwork."
Works for me.