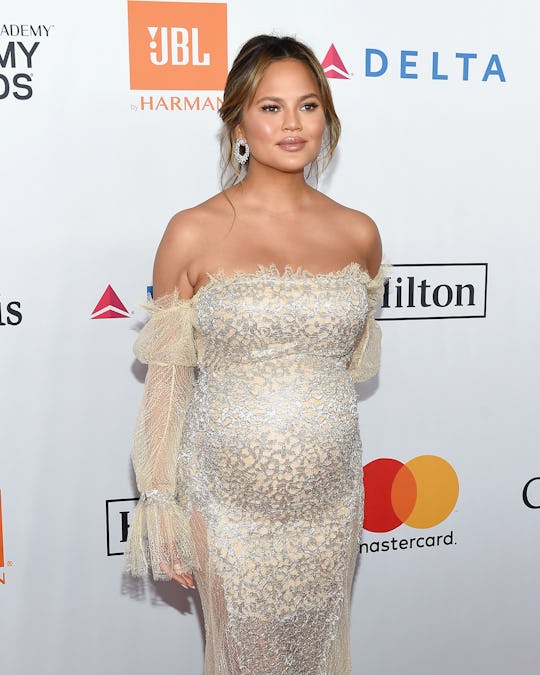 Nicholas Hunt/Getty Images Entertainment/Getty Images
Chrissy Teigen Live-Tweeted The Deadly Indonesian Earthquake & It Sounded So Scary
If you've been following Chrissy Teigen and John Legend on social media, then you've probably noticed that the adorable couple (and their even-more-adorable children) have been enjoying some summertime R&R in Bali lately. That's mostly meant a slew of seriously envy-inducing photos of the couple lounging in the sun and eating some seriously tasty-looking food. But on Sunday, a 6.9 magnitude quake struck the Indonesian island of Lombok, according to CNN, and though they were luckily far enough away to miss the worst of the quake, Chrissy Teigen live-tweeted the Indonesian earthquake as it was happening, and it sounded so scary.
The mom-of-two shared a series of tweets at the time of the quake, beginning with "oh my god" and "Bali. Trembling. So long." Replies came pouring in from followers as she wrote — with many advising the couple to be safe, and to pay attention to tsunami warnings — and Teigen continued to offer updates, sharing that they experienced "15 solid seconds of 'hooooooly sh*t this is happening'." Teigen also noted that at the time the quake hit, she happened to be naked, and holding her baby, Miles: she wrote, "I very calmly walked outside saying clutching baby saying 'I'm naked. I'm naked. I'm naked' like a naked zombie."
The Cravings author then went on to explain that, though she and her family were safe, they felt at least eight seriously-unsettling aftershocks after the initial quake itself, and the whole ordeal sounded downright terrifying:
Given Teigen's popularity and following, it's no surprise that her tweets have drawn lots of attention — in fact, a number commenters even said that one of the first things they thought about when they heard about the Indonesia quake was whether or not Teigen and her family were OK. But as much as she likely appreciated the concern, Teigen made a note to emphasize that they weren't the ones who should become the focus: in a follow-up tweet she urged people to share information on the locals and tourists in Lombok and its neighboring islands:
And, well, she's right to note that what she experienced was far from being the worst of it: according to The Guardian, more than 90 people were killed and 209 left "severely injured" as a result of the quake, mostly due to building collapses in the primarily-residential area of North Lombok. More than 3000 homes have also been destroyed, and according to CNN, an estimated 20,000 people have been left displaced.
In total, more than 130 aftershocks were recorded following Sunday's earthquake, according to BBC News, and though a tsunami warning was initially issued, it was lifted after a few hours. But making the quake even more devastating? It had only been a week since a 6.4 magnitude quake hit Lombok, and in addition to leveling homes and buildings, that quake also killed at least 14 people.
Teigen hasn't indicated whether or not she and Legend have left Indonesia to return to the United States, though on Monday she resumed posting her usual light-hearted tweets, including a birthday message for her father. But from the sound of it, tourists have largely been eager to leave the country following the quake — so much so, according to The Jakarta Post, that the Lombok International Airport is now open around the clock in an attempt to accommodate the crowds.
In other words, it's clear that while the quake itself may be over, the fallout and destruction is a major issue. And while tourists and visitors to the islands might currently be struggling to make their way back home, the even more upsetting reality is that it is the locals who will really be feeling the effects for a long time to come. So while it may not have been her original intention, Teigen's tweets have at least helped shine an additional spotlight on the devastation in Indonesia — and hopefully they'll also serve as a reminder that the people of Lombok will continue to need support for a long while as they attempt to rebuild.