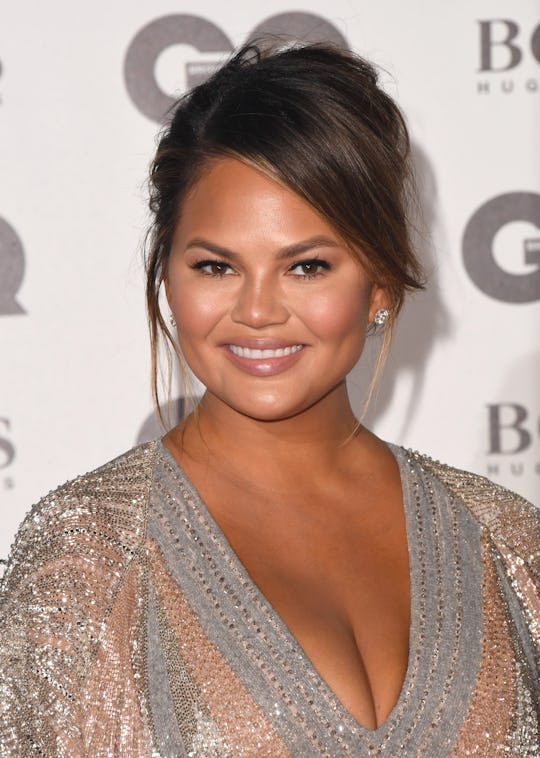 Stuart C. Wilson/Getty Images Entertainment/Getty Images
Chrissy Teigen Opens Up About Postpartum Body Image & Finding Her Happy Weight
Finding your footing after all of the physical, emotional and psychological changes that come with having a baby (or two) is no small feat, and when it comes to accepting that your body doesn't look the way it once did, no one is immune to a little self-doubt, not even a literal supermodel. In a recent interview for the cover of Women's Health, Chrissy Teigen opens up about postpartum body image and finding her happy weight, explaining that "healthy" doesn't look the same for everyone.
"After Luna, I was drinking too much," Teigen explained about how she knew she needed to reevaluate her routine. "I wasn't eating as much because I was full from drinking. I wasn't being good to my body. I remember being so bruised from nothing." However, after getting on medications to help with her postpartum depression, which she opened up about to Glamour last year, and taking a wellness retreat in Bali, Teigen says she began to find her way. "It's like, what could be more important than mental health? What's more important than being proud of yourself and doing the best you can for your body?"
Teigen went onto explain that traditional wisdom, such as that breastfeeding will help you lose weight quickly, isn't always true for everyone. "I haven't found that at all," she said, though nursing is a big part of her life. (Teigen revealed her chef makes her "lactation porridge" to eat for breakfast in the morning, to assist with milk production.)
However, Teigen revealed that her biggest revelation was perhaps that it's no longer her job to look a certain way, and in that, there's a sort of freedom. "Honestly, I don't ever have to be in a swimsuit again," she told the magazine. "Since I was 20 years old, I had this weight in my mind that I am, or that I'm supposed to be. I've been so used to that number for 10 years now. And then I started realizing it was a swimsuit-model weight. There's a very big difference between wanting to be that kind of fit and wanting to be happy-fit."
However, Teigen knows all too well that it's very easy to become swayed by the idea that everyone else looks so perfect... but in the age of social media, it's important to remind yourself that not everything you see is the real deal. "I know they're Facetuning, Photoshopping, and even I'm getting down on myself!" she added. "Imagine the girl who's out there scrolling and feeling like she isn't good enough."
In 2017, Teigen penned an op-ed essay for Glamour in which she opened up about her life in a completely new way: "I had everything I needed to be happy. And yet, for much of the last year, I felt unhappy. What basically everyone around me—but me—knew up until December was this: I have postpartum depression," she wrote. "How can I feel this way when everything is so great? I've had a hard time coming to terms with that, and I hesitated to even talk about this, as everything becomes such a 'thing.'"
It's clear that no matter what Teigen is going through, she isn't afraid to keep it candid. Fit Pregnancy reported that she's known to be a super funny, down-to-earth mother, as evidenced by her tweets in which she describes everything from blowout diaper changes to her surprise that she'd also return home from the hospital in a diaper as well. (It's a very common thing, actually, for women to need cloths or mesh diapers for tearing or bleeding after delivery.) But either way, Teigen is an iconic mom, not only for her candidness but for her willingness to open up about what motherhood is really like: the good, the hilarious, and the sometimes challenging.