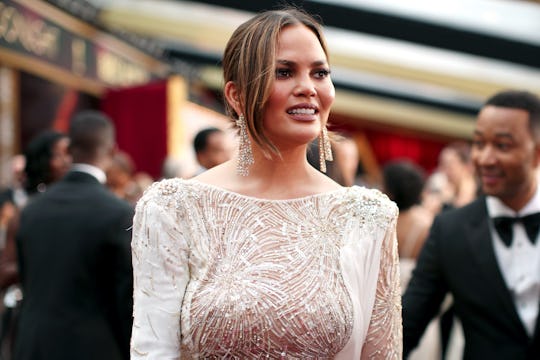 Christopher Polk/Getty Images Entertainment/Getty Images
Chrissy Teigen Perfectly Summed Up Why It's So Important To Treat Postpartum Depression
Everyone's number one girl crush has given us yet another reason to cherish her even more. While speaking at this year's BeautyCon in Los Angeles, Chrissy Teigen's comments about her postpartum depression stood out in particular for their willingness to confront the realities of the condition. The 31-year-old mom emphasized how the illness hurts victims without discretion, regardless of circumstances, and why it's so important to seek treatment when need be. And as she's for her bluntness, Teigen once again had no problem "going there," perpetuating a continuous dialogue about an issue that truly matters.
Teigen first opened up about her postpartum depression in an essay for Glamour, published in March 2017. After the birth of her daughter Luna, Teigen found that she didn't really feel like herself and, in addition to physical pain and a loss of appetite, she began to isolate herself — straining her close relationships as a result. After seeing a doctor — alongside her supportive husband John Legend — she was diagnosed with postpartum depression and anxiety. As she wrote in the magazine, she started taking an antidepressant as treatment. "I remember being so exhausted," she recalled after her doctor's appointment in Glamour. "But happy to know that we could finally get on the path of getting better."
And her experience with antidepressants, specifically the drug Lexapro, was exactly what Teigen spoke about at BeautyCon. For her, it's not an ideal solution, but it's one that works. "Would I prefer not to take something?" Teigen shared, according to The Hollywood Reporter, "Absolutely. But it works for me."
Teigen continued to debunk some depression myths, saying:
I have such a great life. There's no way I could possibly be sad. I have everything I want. But it can happen to anybody. When you're in that hole, you feel like you'll never be out of that hole. You can't even ever imagine being happy again. And I'm very happy again!
In her Glamour essay, Teigen emphasized: "Before this, I had never, ever — in my whole entire life — had one person say to me: 'I have postpartum depression.'" Her continuous speaking out, then, is sorely needed because, as Teigen noted: "Postpartum does not discriminate."
Teigen's openness hasn't just helped her — it's helped (and continues to help) others suffering from postpartum depression who may just not have been able to name what they're going through. "I'm speaking up now because I want people to know it can happen to anybody and I don't want people who have it to feel embarrassed or to feel alone," she wrote. In highlighting not only her symptoms but her positive experience with treatment, Teigen is helping break the stigmas surrounding depression while encouraging others to seek professional help.