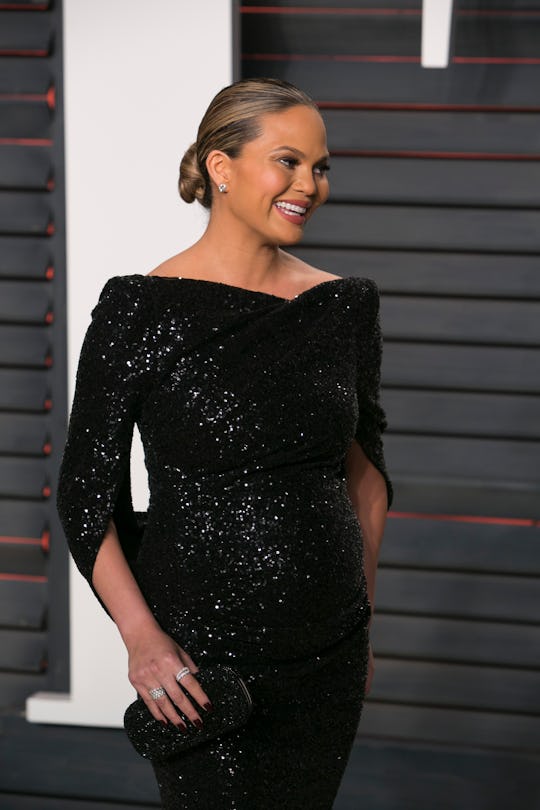 ADRIAN SANCHEZ-GONZALEZ/AFP/Getty Images
Chrissy Teigen Posted A Bath Photo With Luna & It's The Cutest
If you loved following Chrissy Teigen on social media before for her sense of humor, now that she has a baby it's even more fun. Like yesterday, Chrissy Teigen posted a picture of baby Luna taking a bath and it's one of the most adorable thing's you ever seen (besides your own babies taking a bath, obviously). Even Teigen was moved by her own picture, captioning it on Instagram, "Bath time is tooooo cute! My heart, it hurts." That pretty much sums it up. In the picture, Luna is as calm as anything as Teigen splashes water onto her in the tub. She's just so tiny. It's the kind of picture that makes a fan happy that Teigen has decided to not shy away from her love of clever captions and tweet jokes now that she's had a baby.
Before Luna arrived earlier in April, Teigen told People that she fully expected to share pictures of the newborn on social media. "I am conscious of what people want to see and what they don't want to see, or what they see through completely," she said. "We're not going to go out of our way to hide because obviously it's such a big part of our lives to show everything: the inside of our homes, my parents living with us, our animals, everything," she added.
For fans, it's fun to see Teigen and her husband John Legend's lives from the inside, though it hasn't always worked in her favor. Just after giving birth and announcing Luna's arrival on April 14, Teigen posted on Instagram that she and her husband were headed out for a date night sans baby. Of course, people decided to judge the new mom, for taking some alone time. "She's hitting the streets already?" was the refrain of a thousand or so judgemental (and probably tired) women on her Instagram page.
True to form, though, Teigen took it in stride and mocked her haters right back. When one fan asked her, in all seriousness, how Luna was doing Teigen tweeted back, "i dunno, I can't find her." That's pretty hysterical. Other than the new bath photo, Teigen's also been tweeting about Lip Sync Battle and how to eat peanut butter in a way that doesn't involve just licking it off of the spoon. Basically everything you've been thinking about all week, too, right?
Luna in the sink taking a bath totally wins all around, though. But it's going to be even more fun to stalk Teigen's Instagram when Luna starts walking and talking back to her mom. She's sure to have all of her mom's attitude.