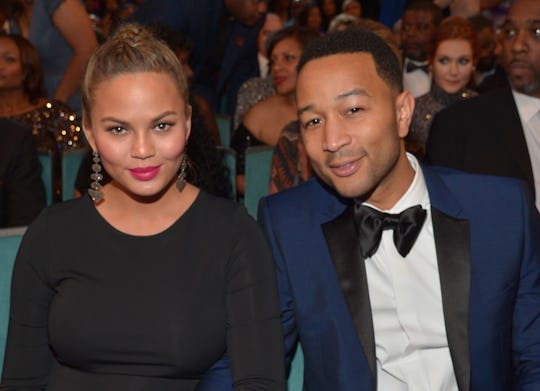 Charley Gallay/Getty Images Entertainment/Getty Images
Chrissy Teigen Posts A Video Of Luna Jamming To John Legend's Music, & It's The Best
Chrissy Teigen and John Legend's baby, Luna Simone Stephens, is only a month old, but she's already a superstar. Not only is she an adorable mix of her two very attractive parents, but it seems she also inherited quite of bit of their personalities, talents, and taste in music, too. Some people are just born lucky. This week, proud mama Chrissy Teigen posts a video of Luna jamming to John Legend's music and it is so adorable — so little and she's already got some moves. Go you, Luna.
Teigen has made it easy to keep up with Luna's already-exciting life. She shares plenty of snaps, photos, and videos so fans can keep up with the ways her little daughter is changing and growing every single day. It's amazing to watch.
This video is just the latest in the Luna files. Teigen took to Instagram to post this adorable video of Luna Simone having a little baby dance session to her dad's music. For the John Legend fans out there (who isn't?), it sounds like it's a sneak peak of his upcoming album. It's hard to concentrate on the music with Luna right there, dancing and sticking her tiny tongue out, but it sounds good. Plus, if it gets the babies dancing, it's got to be a high-quality jam.
Fans were gushing over this video as soon as it was posted. One Instagram user, reneeshamoon, wrote, "She looks just like Chrissy now!" User vbranham wrote, "She is such a perfect mixture of both of you. Just a beautiful baby." She does look a lot like her super model mom in this photo, but based on her rhythm she's clearly got a lot of her dad in her, too.
Legend seems to really value Luna's opinion of his new record. Earlier this week, Teigen posted a photo of Legend holding Luna — who is deep in concentration (or she's asleep) — while giving his latest project a listen. Either way, she looks very cute perched on her dad's chest. Teigen captioned the photo, "Listening to daddy's new album." In both the video and this snap, Luna seems to really be enjoying Legend's music (which is always a good sign).
It's not surprising that Legend and Teigen are having a great time being new parents. They were thrilled to announce they were having a baby, and now that she's finally here they are enjoying it to the fullest — even the less glamorous aspects of parenthood. In an interview with People, Teigen said that she and Legend are even having a good time mastering the "diaper change" because "it's so new and fun for us." That's what love will do to you.