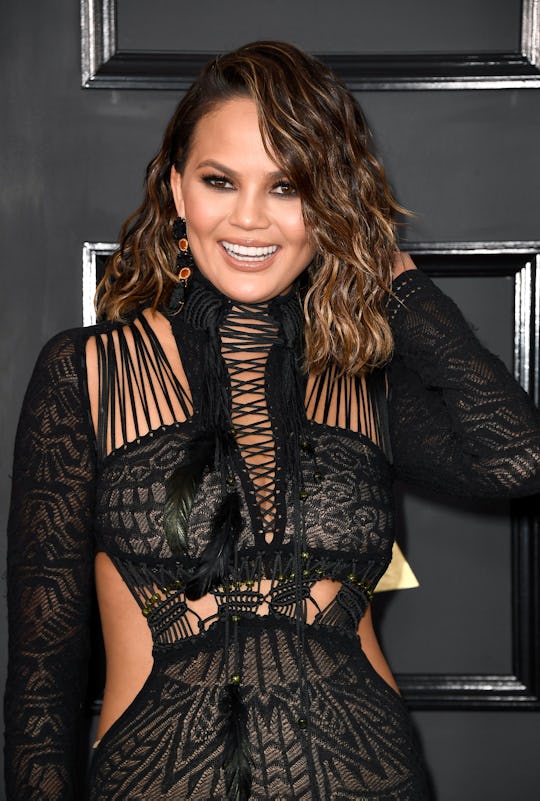 Frazer Harrison/Getty Images Entertainment/Getty Images
Chrissy Teigen's Post-Grammy Snapchats Are Life
Award shows always bring on the FOMO and it's a guarantee that everyone had it pretty bad after watching Chrissy Teigen's drunken posts on Snapchat following the Grammys on Sunday. The 31-year-old power mom attended the ceremony with her husband John Legend, who performed during the show, and hilariously documented them unwinding after an obviously fun night out. During the at-home after party, the adorable couple indulged in a late-night bowl of Thai ramen, struggled to assemble a tiny toilet, and made taking off Teigen's layers of stunning jewelry a team effort — all of which was posted on her Snapchat story. It was the drunken blessing we all needed.
The swimsuit model was entertaining us even before her drunken antics hit our social media feeds: On the red carpet, for instance, instead of just striking a glamorous pose for the masses of photographers, Teigen had some fun and danced up on her husband. It's been said a millions time, but the pair — who are parents to their adorable baby daughter Luna — exude ultimate #CoupleGoals.
Although the real entertainment started during the after hours of the night, Teigen did post on social media throughout the Grammys as well. She wrote on Twitter that she melted while talking with her "goddess" Jennifer Lopez and then echoed everyone's thoughts when she wrote that "Beyonce killed me Adele gave me life, I'm confused."
Teigen clearly had a blast at last night's Grammys show, but (for us at home) the real fun started with the game "Toilet Trouble," a Hasbro creation for kids aged 4 and up.
The Sports Illustrated supermodel posted a series of videos showing her attempting to assemble the hilarious game where players take turns flushing the tiny toilet to see who will get sprayed by the "yucky" water. (Spoiler: Legend was the unlucky one).
A few hours and a wardrobe change later, Teigen told her followers on Snapchat that she was in for the night. "Okay, I'm home. We're having ramen," she said in the first video while holding up a package of Thai instant noodles.
Then, in the next update, Teigen was seen laying down on the floor, explaining that husband Legend had been tasked with taking off her jewelry. "I'm on the floor and John's in charge of taking my jewelry off for Monica," she said, referring to the jewelry designer. "Take it off John."
The hilarious mom of one continued to narrate the situation, much to fans' delight. "Okay, he's taking it off… Ow!" Teigen said into the camera.
In another video, Teigen asked her husband if he was mad at her for getting drunk. "Why would I be mad at you?" Legend sweetly responded. "You're perfect."
After a hilarious night of drunken antics, Teigen made sure to give fans an update in the morning. "How am I feeling, you ask," she captioned a video of herself letting out a surprising burp and laughing at the whole ordeal.
Last night's post-Grammy adventures are just another reason why the internet is absolutely obsessed with Teigen. Whether it's her hilarious, sharp-as-a-tack sense of humor or her unabashed humility, she's beyond relatable — even when she's buzzed after night of glitz and glam at the Grammys.