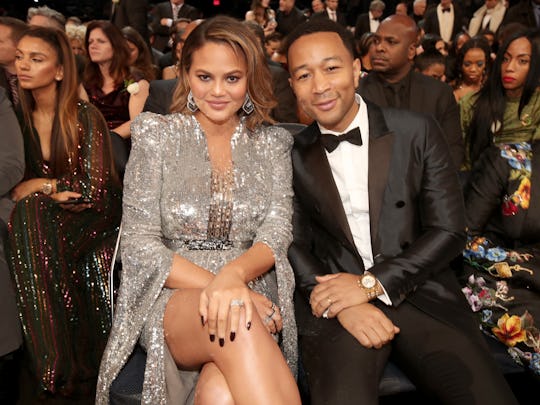 Christopher Polk/Getty Images Entertainment/Getty Images
Chrissy Teigen Just Revealed Her Baby's Sex & The Instagram Is So, So Sweet
If you are a human paying attention to pop culture in 2018, then you're undoubtedly aware that Chrissy Teigen, America's Cool Big Sister, is pregnant. But what you maybe didn't know is that she just low-key told everybody the sex of her baby. Chrissy Teigen revealed she's having a boy and the Instagram message is so, so sweet.
Teigen revealed her pregnancy in late 2017, but nobody knew whether Teigen and husband John Legend's daughter Luna was getting a little brother or sister. The couple showed up at the Grammys looking like everything I've ever wanted to be, but left a little early to get back home and to bed. I'm assuming they stopped for McDonald's on the way. Teigen also took this time to announce that she's having a son on her Instagram (one of the few celebrity social media accounts I actually follow). "Mama and her baby boy," she wrote on the 'Gram. Yeah I'm excited about the awards and all, but I'm also super excited to see what hilarious things Teigen is going to tweet about her son (and also to see if he also looks exactly like Legend). When is the baby shower? I'll bring snacks.
Teigen has long-since proven herself to be a master of social media. This Instagram post is a perfect example of that. While everyone's paying attention to the Grammys, Teigen takes the opportunity to sneak in a little gender announcement. Well played, Teigen. But she first amassed her enormous social media following by being perhaps the funniest Twitter user ever to Twitter. She posts things like her adventures in tiny food or the saga of that time her flight flew halfway to Tokyo and then back because a passenger accidentally got on the wrong flight.
And I know I'm not the only person who was impressed with Teigen's timing about this announcement. Just take a look at the Twitter reactions.
Many people thought it was pretty hilarious that Teigen chose to make this announcement right there in the middle of the Grammys. I mean sure, Legend wasn't nominated for anything this time around, but still. That's a pretty slick move. I must say I approve.
But other people were just excited to hear the announcement and took to Twitter just to tell Teigen how excited they were about her new little son about to join the family. I am also here for this, just so we all know.
Currently one of my favorite things about my Instagram feed is seeing pictures of Teigen and Legend with their daughter Luna, who is possibly the cutest child I've ever seen. Luna was born in April of 2016, which means that she'll be just two years old when her little brother is born. The couple takes a lot, and I mean a lot, of pictures of her, and it's easy to understand why. She's got little apple cheeks and the cutest little smile you can't help but love.
I can only imagine what adorable pictures Teigen will post once she's got two little ones running around. I wonder if the baby boy will also look exactly like Legend, since apparently a lot of babies look like him. So many babies in fact that people started tweeting Teigen their baby Legend lookalikes and she had to resort to this tweet:
In any case, I guess everyone will find out in just a few months. But whoever the baby looks like, I'm just sincerely happy for this little family.
Check out Romper's new video series, Romper's Doula Diaries:
Watch full episodes of Romper's Doula Diaries on Facebook Watch.