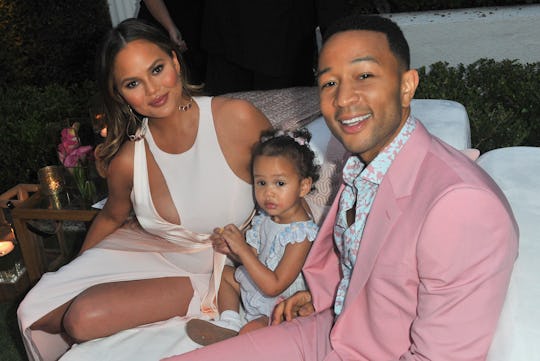 Jerod Harris/Getty Images Entertainment/Getty Images
Chrissy Teigen Said Luna Has Taken An Interest In Fashion
There is no doubt that Chrissy Teigen is glamorous. The super hardworking mom of two knows a thing or two about picking out outfits, considering how amazing she is at working a red carpet. So, it would make sense for Teigen's oldest child, 2-year-old daughter, Luna, to inherit her mom's sense of style and eye for beauty. It's super sweet that Chrissy Teigen revealed that Luna compliments her outfits because with a mom that fabulous, she kind of has to.
Sure, Luna might only be two years old, but according to Teigen, she has quite big aspirations. In a new interview with E! News, Teigen revealed that Luna has started mimicking Teigen in the mirror when she applies her own makeup to her face. This makes sense, especially since Teigen and her husband, John Legend, are used to getting ready for huge events (like the Academy Awards) and walking red carpets together. So, it shouldn't come as a surprise that Luna wants to get ready for those events, too — even if she is just a little too young to tag along with them. From the sound of it, Luna is taking just a few notes.
"She's at a stage where she'll compliment you on your outfit," Teigen told E! News. But, as most people know, toddlers don't necessarily have the best eye for matching their leggings to their shirt. "Of course, her taste in outfits — you know, you can't really trust it," Teigen joked.
But, if Luna is complimenting her mom's outfits its pretty much guaranteed that Teigen can trust her opinion, only because Teigen is super fashionable.
I mean, Teigen does have a point — no one is calling a toddler wearing stripped bottoms with a polka dotted top as a fashion icon. But little kids dress themselves this way because they view it as a form of self expression, according to TODAY. Although it might embarrass some parents, allowing kids to dress themselves is a way for them to gain confidence, and impacts their self-esteem in a positive way, according to Parents. So by not having the best sense of style at the age of two, Luna is pretty much setting herself up for a better future (and having a super stylish mom definitely doesn't hurt, either).
And while some kids love spending time in front of their iPad or TV, Teigen told E! News that Luna loves watching her parents get ready. Teigen said, according to E! News:
She doesn't shower with us, but she'll sit at the end of the shower, just cross-legged. She'll watch you shampoo and she'll go "Shave, shave, shave!" Then, when I do my makeup at the sink, she's like "Up, up, up."...If you hand her a lipgloss or a compact, and she'll dab, dab. Then she goes, "Feel pretty!" It's really cute.
Really, who needs toys when little kids can just pretend to play with their mom's makeup? Sure, it's a little risky (not to mention distracting) but it's super adorable and could allow them to explore a future career in makeup artistry.
This isn't the first time that Teigen has said that her daughter is possibly a budding fashionista. In the past, Teigen has posted so many photos of Luna dressing in super cute costumes. And in April, Teigen tweeted to her followers that she didn't want them to blame her for her daughter's super interesting outfit choice, according to PureWow, after Luna had dressed herself for an outing. "I pick my battles," Teigen wrote of Luna's eclectic jacket and tutu combination.
Regardless of whether or not Luna's sense of style can be trusted, it's clear that she enjoys all of the steps that are involved in getting ready. And who knows? Give Luna a few years and she might be out styling her "best dressed" mom.