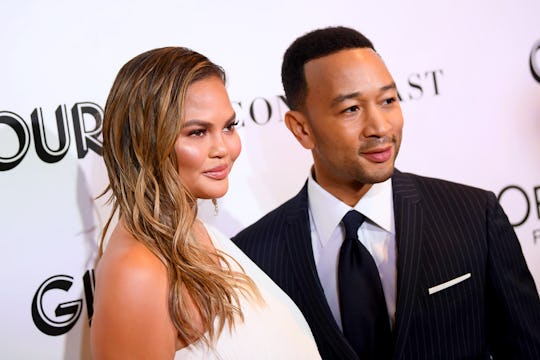 Dimitrios Kambouris/Getty Images Entertainment/Getty Images
Twitter Loves Chrissy Teigan's 'The Voice' Scene On 'A Legendary Christmas'
A sitcom-worthy Christmas party is the framing device of A Legendary Christmas, punctuating its musical numbers with bursts of comedy courtesy of Chrissy Teigen and John Legend. In one scene, Teigen is so exhausted by her party responsibilities that she settles in for a quick catnap — and wakes up on the set of The Voice. It was a fun surprise, but Chrissy Teigen said she's "cringing" at her The Voice scene on A Legendary Christmas, though fans are sure to disagree.
In the scene, Teigen stumbled on stage in her pajamas and slippers, microphone in hand. As is traditional on The Voice, she faced the backs of the judges' four chairs and realized she needed to find a way to get Legend, Adam Levine, Kelly Clarkson, and Blake Shelton to turn around. Though her methods of doing so were certainly untraditional, she was nevertheless successful. But as soon as the skit aired, Teigen took to Twitter to reveal how she really felt about it. "Already cringing at the @NBCTheVoice scene of #ALegendaryChristmas — I don't know how ANYONE gets up on that stage it was TERRIFYING and I won't do it again for anything, anything," she wrote.
That's fitting, because even on the show Teigen announced that it was her worst nightmare. Several users on Twitter disagreed with her assessment, however.
Teigen didn't show off any surprise vocal stylings to succeed in her Voice nightmare scenario; she relied on comedy. As she stood contemplating how to get the judges to turn around, she stated outright that she would not be singing. She would make them laugh instead. First, she announced loudly that this was the worst (a sentiment she still seems to share) before getting the judges' attention.
She played Shelton and Levine against each other: she mocked Levine's title as Sexiest Man Alive by saying that even she was a sexier man than him, which got Shelton to turn; by making fun of his country vibe, she got Levine to turn, too. After that, some fast talking about her love for Clarkson's babies was all it took to get Clarkson. Finally Legend was left.
"I can't just insult John, I do that every day," Teigen thought to herself in voiceover. She decided to instead tell him her favorite thing about the two of them: she makes more money than him now. It worked, and with that she won The Voice and woke up back at her party in time to be serenaded by Legend.
Teigen may have found the scene cringeworthy, but fans on Twitter seemed delighted by her jokes. It's definitely daunting to get on stage with a microphone in front of a full audience and a bunch of judges before trying to win them all over. But even if she felt uncertain about her attempt, Teigen managed to get everyone on her side in the end — from her co-stars to the viewers watching at home. There might never be a repeat performance, but her debut on The Voice was memorable enough on its own.
This first-time mom wants to have a home birth, but is she ready? Watch how a doula supports a military mom who's determined to have a home birth in Episode One of Romper's Doula Diaries, Season Two, below. Visit Bustle Digital Group's YouTube page for the next three episodes, launching every Monday starting November 26.