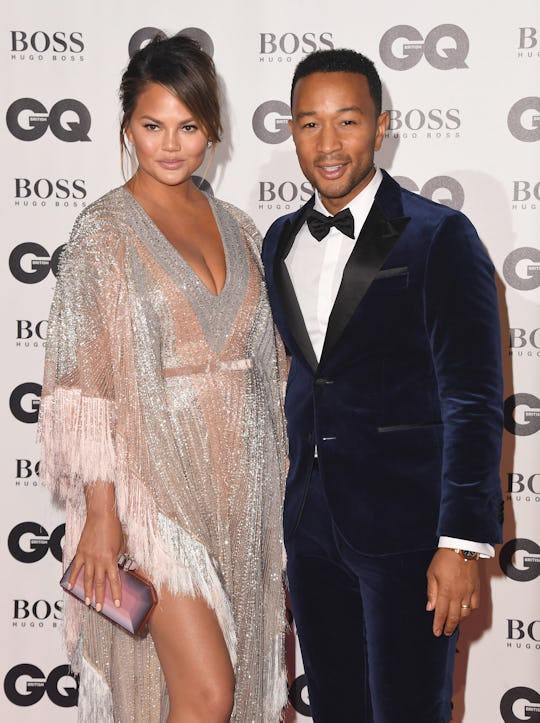 Stuart C. Wilson/Getty Images Entertainment/Getty Images
Don't Worry, Even Chrissy Teigen & John Legend Are Too Tired For Sex After Kids
Chrissy Teigen has never shied away from discussing her private life, and it's no secret that she and husband John Legend have always been seriously hot for one another. In fact, their passionate love story is one of the (many) reasons why they have become a seriously-beloved Hollywood couple, but in a recent interview with Women's Health, Chrissy Teigen said that having kids changes your sex life because you're both just straight-up exhausted, and honestly, it's so true.
Teigen — who appears on the cover of the mag's latest issue — opened up about some of the ways in which motherhood has affected her life, and, unsurprisingly, she got seriously candid about a few things most people rarely like to publicly admit. For one, she acknowledged that getting your sex life back after having a child isn't exactly easy: after welcoming her second child with Legend in May, Teigen said that the couple had technically been given the go-ahead by her doctors to resume having sex again. But as any couple of young kids can tell you, that doesn't necessarily mean it's happening. Teigen said, "We still have that passion for each other, but are we doing it randomly in a dressing room? No!"
That's a pretty refreshing admission from someone who has always been quite open about her and Legend's incredibly steamy relationship. In 2014, for example, she told talk show host Wendy Williams that she and Legend had actually hooked up the day they met filming the 2007 music video for his hit, "Stereo," and after getting engaged, the couple told Oprah in 2013 that their decision to once have a spontaneous mid-day romp at a Santa Monica hotel actually led to rumors that Legend had been having a scandalous, secret affair. Then there was the time they admitted on Watch What Happens Live that they'd once had sex at a campaign event for Barack Obama, as well as at L.A. shop Fred Segal, according to StyleCaster. And for good measure? In a 2014 interview with Cosmopolitan, Teigen also copped to having sex with Legend "under a blanket" on an airplane while flying "commercial first-class" to Thailand to visit her parents.
In other words? Well it definitely sounds like that stage of their relationship might be behind them — at least temporarily. Yet, there does still sound like one important exception to the rule. While in general, Teigen and Legend might prefer to prioritize their sleep these days, she said that when she goes to see Legend perform live, she thinks "Oh, he's sexy," and as a result, she said, "we'll probably have sex that night."
It isn't *just* Teigen's post-baby libido that has changed though. She also told the magazine that her body is, of course, also majorly different now that she's a mom. Thanks in part to breastfeeding, the Cravings author said her breasts don't exactly look like they once did, and joked, "I look at my boobs and I'm like, What the heck happened? They face outwards now. They're like giant disks. I don't even know how to hide them." And in July, the former swimsuit model shared footage of her post-pregnancy stretch marks in an Instagram Story video while on vacation in Bali, according to People, and said, "I guess these just aren't going to go away. This is my new body."
It definitely doesn't sound like Teigen is too bothered though — though she did admit that she's "still super insecure" about how she looks, especially given that there are so many people on Instagram these days who "[look] bonkers amazing," she's definitely not alone in that super-normal struggle.
As for the rest of us? Even though it can be easy to look at Teigen and assume she and her perfect-looking marriage must be immune to the common ups and downs of everyday life, it's pretty reassuring to know that even Chrissy Teigen and John Legend have plenty of nights when they're just way too tired to even think about getting it on.