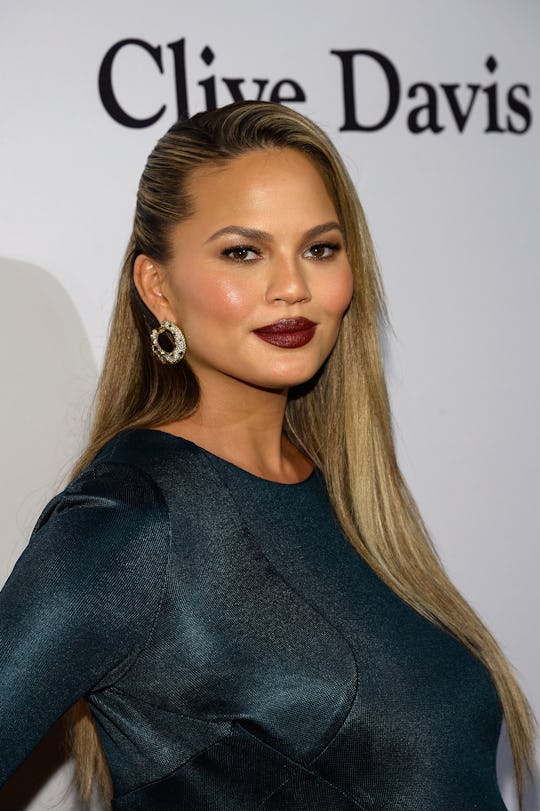 Kevork Djansezian/Getty Images Entertainment/Getty Images
Chrissy Teigen Says She Breastfeeds For 10 Hours A Day & Wonders When She Became A Cow
When it comes to breastfeeding, most moms-to-be expect that it will be pretty demanding, but it's usually not until after labor that you realize just how much time you'll actually be spending feeding your seemingly-always-hungry child. New mom Chrissy Teigen said she breastfeeds for 10 hours a day, and her comments perfectly sum up the all-consuming, "when did I become a dairy cow?" thought process that so many other new breastfeeding moms have experienced, and honestly, it's so reassuring to hear her say it out loud. In a new interview with Entertainment Tonight, Teigen said her four-week-old daughter Luna's feeding schedule was a bit of a surprise, and that it was a lot more work than she initially anticipated:
If you kind of do the math, you're kind of breastfeeding for 10 hours a day total. It's very loving and sweet, but it's not easy. They just use you for your milk and you just feel like you are just a cow all day. It's hard to work your entire day around getting her the nourishment she needs because they are just little animals.
Even though breastfeeding is the most "natural" way to feed your child, hearing Teigen talk about how much work it really is is a reminder that natural doesn't always mean "easy." Not only are you exhausted as a new mom — and, let's face it, probably also pretty overwhelmed — you're also fully responsible for responding to your tiny baby's non-stop appetite if you're breastfeeding exclusively, and that is not always fun.
But, of course, the challenges of new motherhood have been made easier for Teigen by the fact that, well, there are so many beautiful moments in those early days, too. One particularly awesome moment that the model mama has just experienced? When your new baby finally starts to focus her gaze on you. Of the moment, Teigen told ET,
Her eyes have uncrossed a little bit and, she's like, now, rather than looking right through you, she looks at you, which is really nice. [And] it's the little smiles that get you.
Teigen and hubby John Legend have had a lot to celebrate lately. After finally becoming parents to Luna following a difficult battle with infertility, the couple are now basking in the glow of being a family of three — with Teigen just having experienced her very first Mother's Day. According to Us Weekly, Legend shared a sweet Instagram tribute to his wife in honor of the day, complete with a picture of Luna in a hand-drawn "Happy 1st Mother's Day" onesie. In the caption, Legend wrote,
To my wonderful wife, @chrissyteigen. Luna and I are so lucky to have you in our lives. If our daughter can be even half as awesome as you, I will be so happy and proud. Happy 1st Mother's Day!
Even before she became a mom, Teigen's upfront honestly about, well, pretty much everything, has been so refreshing and validating. And since motherhood is so often rife with judgement and impossible-to-meet standards about how mothers should act and feel, it's especially nice to hear Teigen share so openly how hard it can be sometimes. Because whether or not they admit it, all moms struggle at some point with something — even supermodel mamas with super supportive musician husbands and possibly nannies providing extra help. When it comes to parenthood, pretty much no one gets off easily — and that is really reassuring to hear when you've just been kept up half the night because your infant is hungry and the only thing it wants is milk from your own boobs.
Way to be awesome, Chrissy. I'm pretty sure she'd make the best mom BFF ever.