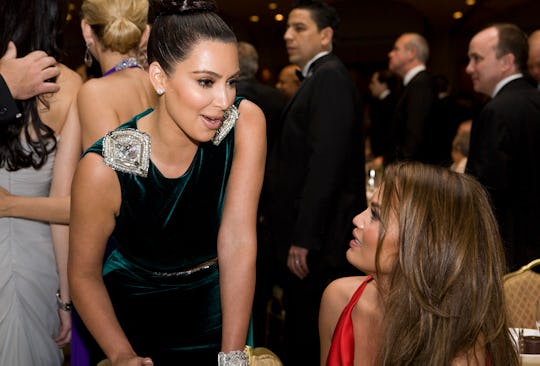 Pool/Getty Images News/Getty Images
Chrissy Teigen Says She Could Be Kim Kardashian's Surrogate, & They Are Mom BFF Goals
In a recent interview, Chrissy Teigen said she'd do something pretty amazing for her best friend, Kim Kardashian West. In last week's episode of Keeping Up With The Kardashians, Kardashian revealed she's thinking about having a third child — which is where Teigen offered to help. Chrissy Teigen said she could be Kim Kardashian's surrogate, and she actually seems really excited about the prospect.
In the most recent episode of her reality show, Kardashian explained that she'd like to have another baby (she's already mom to North, 3, and Saint, 11 months) but isn't sure her body could handle it. While she was pregnant with Saint, rumors circulated that she had used a surrogate, which she quickly quieted with a nude selfie posted to her Instagram. Now, Kardashian admitted that, as the result of her complicated pregnancies in the past, she's thinking about the possibility of using a surrogate if she and husband Kanye West want more children in the future. With both of her previous pregnancies, Kardashian suffered from a condition called placenta accreta. In a normal pregnancy, the placenta is supposed to attach to the uterine wall, holding it in place while the fetus grows and uses it for nourishment. But with placenta accreta, it attaches too deeply and can cause bleeding and other complications leading to the need for a C-section, according to the American Pregnancy Association.
After she gave birth to North, she had to have a procedure to remove the placenta when it couldn't be delivered on its own. Kardashian called it "the most painful experience" of her life. On last weekend's episode of Keeping Up With The Kardashians, Kardashian's doctors reportedly told her she shouldn't get pregnant again, especially since Kardashian also had preeclampsia during her first pregnancy, a condition where the mother's blood pressure gets too high.
If Kardashian decides that she and West do want a third child, Teigen said she's definitely down to be the surrogate for her friends. Teigen, who has a 7-month-old daughter, Luna, with John Legend, told Access Hollywood that she "really enjoyed the pregnancy process," and would gladly be Kardashian's surrogate "in a heartbeat" if Kardashian asked.
Teigen and Kardashian met several years ago at an event. Teigen recalled that she was nervous to meet the reality star, but when she realized they were both wearing Spanx, she knew they were destined to be best friends forever. The pals were in Fergie's "M.I.L.F.$" video together, have thrown each other baby showers, and are known for their glamorous, FOMO-inducing parties. But as Teigen's offer shows, their friendship is way deeper than just the glitz and glam of Hollywood, and that kind of true friendship should totally be goals.