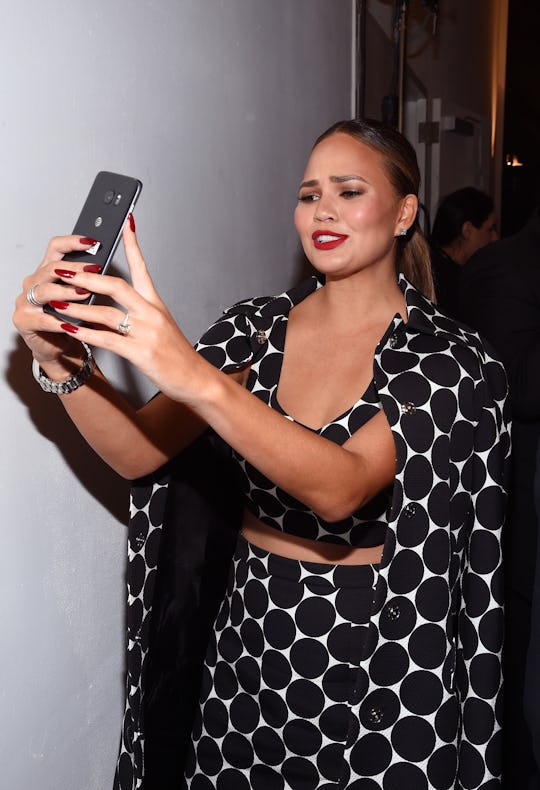 Dimitrios Kambouris/Getty Images Entertainment/Getty Images
Chrissy Teigen Says She's Not Confident About Her Postpartum Body, & It's Too Relatable
Chrissy Teigen, one of the most beautiful women on the planet, might look like a goddess to the rest of us, but she confessed she's still not back to her previous bikini model shape more than 5 months after the birth of her beautiful baby girl, Luna. In an interview with People, Teigen said she's not confident about her post-baby body, but her husband, John Legend, apparently has a different opinion.
"John actually loves the new pieces!" she told E! News in July referring to her newly earned baby curves.
Teigen has always advocated for more mom sanity when it comes to a whole range of issues besides mom bodies, from mom shaming to keeping it real about the work raising a human being requires. "(Parenting is) fun and exciting because, man, kids, they keep you on your toes," she told People, according to Today.
Which is why I'm worried my favorite model-mama is starting to feel too much pressure, despite her tough attitude. Sure, Teigen is a model and makes money off her beautiful body. Of course she's going to feel more pressure than most new moms to bounce back immediately, but that's just not how most women's bodies work. And it sounds like even a body positive role model like Teigen is starting to get anxious about getting back into her teeny bikinis she got famous for rocking in Sports Illustrated.
"Every shoot I have right now, I request like all one-pieces please or anything high-waisted," Teigen told People. "I'm still definitely not comfortable. I think I'm fine in clothes. But am I comfortable naked or in a bikini? Not exactly yet."
But once again, you've got to applaud Teigen for her honesty.
Moms everywhere appreciate it when someone shares the struggle. But you have to admit, Teigen looks pretty damn amazing just a few months after having a baby. She really should give herself some credit (if only societal beauty standards would allow it). I mean come on!
But it's Teigen's combination of otherworldly beauty and glamour, delivered with a healthy dose of humanity, that has inspired so many women to fall head over heels for the beautiful woman with a brain and the best Twitter jokes ever.
I have no doubt that in the very near future Teigen will be back out frolicking in the waves wearing a knockout bikini for a photoshoot. But in the meantime she's cool, brave, and honest enough to remind us that, no matter how famous, or genetically blessed you are, this mom job is a seriously big deal, from the day-to-day grind to the toll it takes on your "pieces." And that matters for moms and women everywhere.
Keep doing you, Chrissy. The reason so many moms love you has nothing to do with how you look in a bikini, and everything to do with making other women feel just a tiny bit better about themselves. You're more than just a model in a bikini — you're a role model for millions of women.