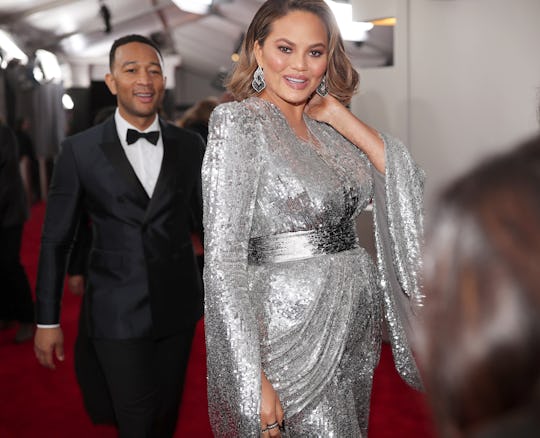 Christopher Polk/Getty Images Entertainment/Getty Images
Chrissy Teigen Shared An Ultrasound Pic Of Her Baby & Parents Everywhere Can Relate
Chrissy Teigen is among Hollywood's most hilariously candid moms: It's just a fact. (Kristen Bell is right up there on the list, too, don't worry.) This no-filter mama is famous for her honest tweets about the struggles of pregnancy and motherhood — and Teigen's followers pretty much live for her regular anecdotes. Now that she and her husband, John Legend, are expecting baby number two, fans are loving the model's pregnancy updates all over again. Most recently, Chrissy Teigen shared an ultrasound pic of her baby, Us Weekly reported, and parents everywhere can relate.
On Saturday evening, Teigen took to Twitter to share the ultrasound photo with her nearly 10 millions followers. "Hello I'm a bebe boy kinda," the expecting mom captioned the shot. If you look closely, it's pretty easy to make out the baby's face and maybe a couple of hands. But other than that, it's exactly what the majority of ultrasound photos look like to parents-to-be: Random blobs of whatever that are apparently your developing child. (Unless you're a trained ultrasound technician, of course.) Or, if you're among roughly two-thirds of Teigen's followers, it might resemble a delicious, Italian meal. "That lasagna looks crisp," a barrage of Twitter users commented. LOL. (And WTF?!)
For those who are out of the loop (like me, apparently,) the phrase is from a Facebook exchange — during which someone legitimately mistook an ultrasound photo for lasagna — that went viral back in 2016, according to The Sun. And now you know.
Crispy lasagna aside ... Apparently, some people already think baby number two looks like his daddy. Which I'm not sure is a compliment at this point. (See previous lasagna references.)
Still, others pointed out that pretty much all 3D ultrasounds look borderline creepy. And I'm going to have to agree.
In cased you missed it, John Legend and Chrissy Teigen announced that baby number two would be a boy during the Grammy Awards in January, Us Weekly reported. "Mama and her baby boy," Teigen wrote on Instagram, alongside a photo of herself cradling her bump.
Then again, the sex of her second child didn't exactly come as a surprise to fans; in fact, she and Legend had planned it this way all along. As People reported, Teigen has confirmed that she and Legend conceived again with the help of in vitro fertilization. "We did the harvesting — as they call it — again, where they make the embryos." The model mama has been open about the couple's infertility struggles in the past, even sharing that they specifically chose to implant a female embryo the first time around. "A little boy is next, for sure" she told People in January, 2017.
I remember the very first time I saw an image of one of my children at a prenatal checkup. As the ultrasound technician moved around the wand on my gelled-up belly, she pointed at the screen and identified my 8-week-old fetus. As far as I could tell, it was most definitely a blob. But since she went to school for this and all, I took the technician's word for it. For my 20-week anatomy ultrasound, I caught glimpses of certain obvious body parts. And I was actually quite proud to have identified that my baby had a penis before the ultrasound tech revealed, "It's a boy!" I felt like even more of an expert during my second pregnancy when I could tell baby number two was going to be a girl. Perhaps I missed my true calling in life?
Or maybe not. Because I have no idea what I'm looking at in the GIF below. A beating heart? Sure, I'll go with that.
Don't worry, though, Chrissy. By the time your due date rolls around in June, I'm pretty sure your baby boy will come out resembling his daddy more than crisp lasagna.