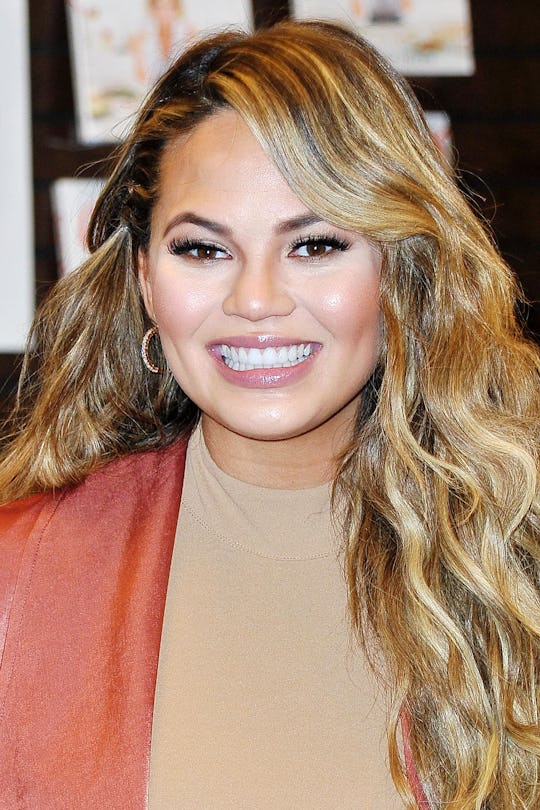 Jerod Harris/Getty Images Entertainment/Getty Images
Chrissy Teigen Shares A Makeup-Free Selfie That Gets Real About Postpartum Skin
Supermodel, cookbook author, and social media rockstar Chrissy Teigen is making a smooth transition from being everyone's favorite pregnant person to their awesome new mom BFF. And, as always, she's doing it by being totally real. Almost as soon as she and husband John Legend gave birth to baby Luna earlier this month, Teigen was back online, telling all her fans exactly how real (or really insane) things get after you cross over into the world of motherhood. And according to Teigen, that gorgeous "pregnancy glow" (for those lucky enough to get it... I'm still waiting) is one of the first things to vanish. Entertainment Tonight reported that Chrissy Teigen posted a makeup-free selfie on Snapchat recently with the caption, "Goodbye pregnancy glow. Hello itchy, red spots."
Pregnancy is the gift that keeps on giving, isn't it? Of course, the experience can be beautiful and there's a prize at the end that makes it all totally worthwhile. But it's hard to prepare for all of the changes that can happen during and after those forty weeks. As Teigen found out this month, common skin changes after pregnancy can include everything from hyperpigmentation (aka "the mask of pregnancy") to facial spider veins and, according to Parents magazine, those awesome pregnancy hormones are once again the culprit.
In the days following little Luna's arrival, Teigen's willingness to talk openly about postpartum life has been refreshing for many of her fans. Among the surprises that the first time mom shared online were why new moms might need diapers, too, and how important "perineal irrigation" suddenly becomes after delivery.
In the past, Teigen's honesty has opened her up to some nasty comments from various corners of the Internet. She's dealt with criticism from some of her thousands of Instagram and Twitter followers for choosing the sex of her baby during IVF treatments, eating processed foods while pregnant, and deciding to hire a night nurse, presumably so she and Legend could (gasp!) get some sleep in those early weeks after their baby arrives.
But rather than just ignoring her trolls, as many celebrities might, the witty and outspoken Teigen entertains and stands up for herself by trolling them right back — and she has elevated her clap-backs to something of an art form.
Still, now that little Luna is here, Teigen has no plans to stop sharing parts her life with her legions of fans, she recently told People. "We're not going to go out of our way to hide because obviously it's such a big part of our lives to show everything: the inside of our homes, my parents living with us, our animals, everything," Teigen said in her People interview. That's great news for fans, especially who are (myself included) excited to watch the supermodel tackle all the fun and awkward moments of first time motherhood. Teigen should keep right on being awesome.