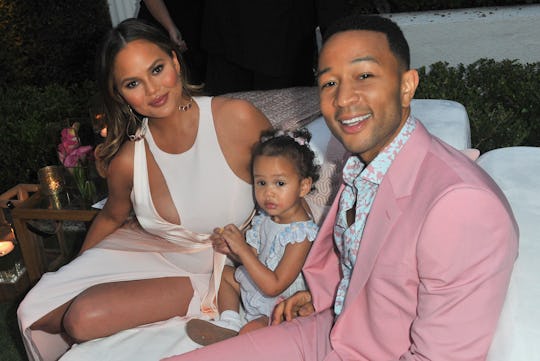 Jerod Harris/Getty Images Entertainment/Getty Images
Chrissy Teigen Shared How Luna & Miles' Personalities Are So Adorably Different
When Chrissy Teigen and John Legend welcomed their son Miles earlier this year, things changed in their household. Their 2-year-old daughter, Luna, became a big sister and they were left to figure out how to deal with raising two completely different children. In a new interview, Chrissy Teigen shared how Luna and Miles' personalities are different and they both seem so adorably unique.
Miles is only 5 months old now, but Teigen told E! News on Tuesday that he's already developed a strong personality and it's completely different from his older sister. Teigen told the news outlet that while Luna might be a little rough around the edges, Miles is a lot more sensitive. "He loves the quiet moments," Teigen told E! News. "He loves story time, but Luna was just such a bull. From the moment she came out, you just knew she was going to be such a Luna — just a nut case."
Teigen's description of her 2-year-old daughter is hilariously honest, and really not so shocking — Luna's defiant personality is something Teigen's followers on social media have definitely witnessed. For instance, in an Instagram post from August, Teigen revealed that it's impossible to get Luna to smile for any photo, according to Scary Mommy.
Sounds like typical toddler/bull behavior.
Although some might chalk up the differences between the siblings to them simply being different people, birth order may also have something to do with it, according to Parents. First and second born siblings will always "have different personalities" because the first gets to test the waters with their parents, making them "controlling" or a natural leader, as Dr. Kevin Leman told Parents.
But since the second born (like Miles) learns from the first born's successes and mistakes, they tend to be "outgoing" and "uncomplicated," according to Parents. This sounds exactly like how Teigen described Miles.
Teigen also revealed in the same interview that since Miles is so young he doesn't have too many interests at the moment (other than being told he's handsome). "He's not really into anything," Teigen told E! News. "He loves sleeping and milk." It's these simple pleasures that make Teigen think that Miles is just like his dad. "Miles is so reserved — he's just John," Teigen added. "He's just a cuddly, lovable little ball."
Although Miles might be taking after his dad, Teigen revealed in an April 2017 interview with People that Luna also takes after Legend in some ways: they both take a second to warm up to people. According to People, Teigen shared:
She's giddy and excitable, but she's definitely more serious, she's more [Legend] in that way. It takes a minute for her to warm up to people. Whereas I'm very much a toucher, a hugger, a lover, she really sizes people up and down... I like that she has her own personality.
Even if Luna she be like Legend in one way, Teigen also told Us Weekly in August 2017 that Luna definitely takes after her as well, explaining: "She's sassy. We team up against John. He likes that she's a strong, young girl. She's also very sweet and caring."
She sounds like the perfect mix between both of her parents.
Just because Luna is a defiant toddler doesn't mean that she isn't an amazing big sister to her younger brother. Although Legend expressed his reservations about her becoming a big sister — "Luna's gonna be an issue," Legend said during an interview in April, according to ELLE — she has proved the opposite. One month later, Legend told People that Luna was being a good big sister and "stepping her game up." "She's making sure we don't stop paying attention to her," Legend told the publication.
Based on everything the couple has said about Luna's personality, it seems as if it would be impossible to ignore the little girl. And given how early the siblings have already shown signs of their adorable and unique personalities, it sounds like it will be so much fun to watch them grow up together.