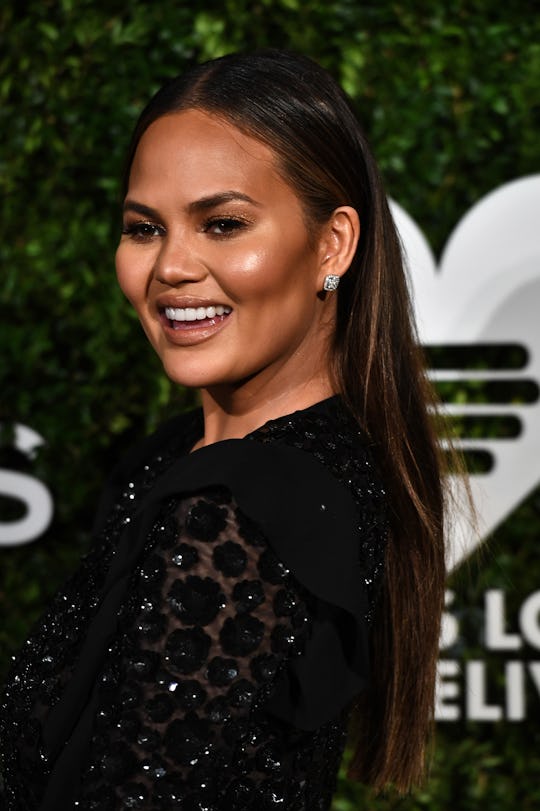 Dimitrios Kambouris/Getty Images Entertainment/Getty Images
Chrissy Teigen Shares Luna's Halloween Costume On Instagram & Makes Everyone's Year
Our favorite momma and social media queen is at it again, this time capturing our hearts by posting baby pics that are honestly just too adorable. If isn't enough that Chrissy Teigen shared Luna's Halloween costume on Instagram, then you'll be so happy to know that she shared pics of its runner-up as well. Six-month-old Luna is definitely going to look adorable regardless, whether she goes with her hot dog onesie or the well-accessorized peacock look that Teigen picked out for her.
When trying on her costumes, Luna wasn't the happiest camper. Her pout was explained by Teigen's caption: "Have you ever seen a more 'why me' face?" Though it looks like a pretty cozy costume, Luna didn't appear to be too thrilled. For outfit number two, Teigen wrote, "You can't possibly think I only bought the hot dog," and revealed a blue and green hat with a beak, feathers, and plushy yellow peacock feet. Once again, Luna looked utterly bewildered, tugging at the various pieces of the costume that she could get her tiny hands on.
A big fan of dressing up, Teigen posted a pic of Luna in a chef's outfit to Instagram about a month ago, exclaiming: "I have dreamed of this day!" Staged in the kitchen, the embroidered chef's hat and frilly dress were the perfect costumed representation of Teigen's cooking skills and her culinary prowess.
Catch all of the adorableness below, starting first and foremost with Luna the hot dog:
Next, make way for Luna the peacock:
You can't forget about Luna the chef, even if this was taken when it wasn't October yet:
If you're looking to pull off a similar look for your little one, Peacock costumes for babies can be found plenty of places online. The same goes for baby hot dog costumes, which can be found so many online stores, and even at Target. If the infant's chef costume is more your speed, you can find multiple matching sets in stores and online. But you'd better hurry; The spookiest day of the year fast approaching and, seeing as Luna's a total social media icon, the popularity of her looks guarantees that they'll be highly sought-after.
This Halloween marks Teigen and John Legend's first as parents and they're totally crushing it. Since Luna was born this past April, they've been a truly adorable mom and dad duo, taking so many aww-worthy photos of Luna, who's their firstborn child. Here's to many, many more.