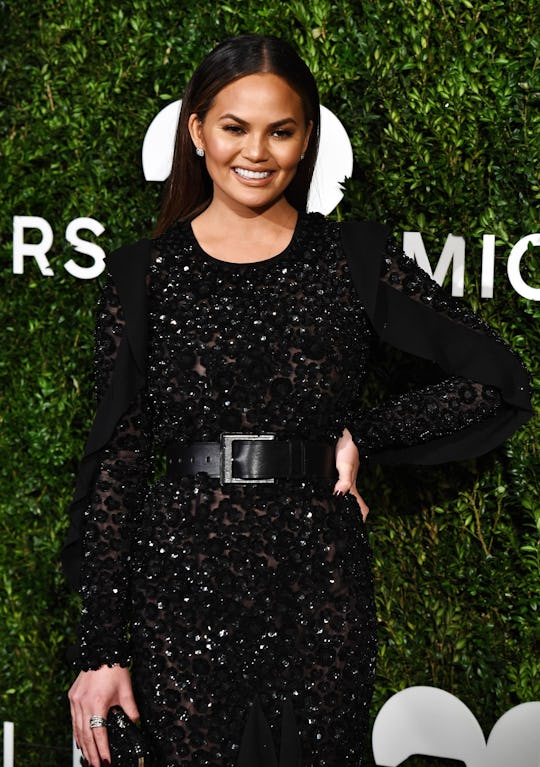 Dimitrios Kambouris/Getty Images Entertainment/Getty Images
Chrissy Teigen Shuts Down People Saying Clinton's Emails Are Worse Than Trump's Rape Case
I've always believed that common sense is not common. So when I witness someone encouraging others to think logically — particularly a high-profile celebrity — it's a breath of fresh air. Amid allegations that Republican presidential candidate Donald Trump raped a 13-year-old girl, Trump supporters attacking Hillary Clinton received some common-sense advice from a celebrity who knows a thing or two about shutting down haters: Chrissy Teigen. And she did it in the sassiest way possible. Chrissy Teigen's response to saying Clinton's emails are worse than Trump's rape case will make you cheer.
Trump has faced multiple scandals, including accusations that he sexually assaulted multiple women. Trump has denied these sexual assault accusations.
Now, an anonymous woman is suing Donald Trump for allegedly raping her when she was 13 years old in 1994. The woman, who is being represented by attorney Lisa Bloom, was supposed to hold a press conference on Wednesday, but the conference was canceled because the woman reportedly received threats and feared for her safety, according to the Huffington Post. The case is set to go to trial on Dec. 16. The Trump campaign did not immediately return Romper's request for comment.
Teigen took to her (now private) Twitter account to address the fact that some Trump supporters believe that Clinton's alleged mishandling of emails on her private server is a worse offense than Trump allegedly raping a 13-year-old girl.
'OK so he is going to trial for child rape but she...' WHAT. THINK ABOUT WHAT YOU ARE GONNA SAY AFTER THE WORD 'SHE.' REALLY THINK," Teigen tweeted. "BECAUSE WHATEVER COMES AFTER THE WORD 'SHE' MUST BE WORSE THAN CHILD RAPE TO YOU.
After one of her 2.84 million followers called Clinton evil, Teigen shot such claims down, too.
"Seriously? She is not evil," Teigen wrote in another tweet. "She has spent most of her life helping others, devoted to public service. Don't be dramatic and insane."
Teigen was so disgusted by the support Trump has received despite these allegations, she wrote on Thursday about her disappointment:"Even after Hillary wins, I will not be over this election. Trump and his supporters have thoroughly damaged me and my faith in humanity," she wrote.
Teigen has been extremely vocal about her disdain for Trump. In June, Teigen tweeted a photo of Trump for his 70th birthday and captioned it "Happy birthday, you monumental asshole."
And Teigen isn't alone in criticizing why Clinton's emails are getting as much attention as Trump's child rape and sexual assault allegations. On Tuesday's episode of The View, the cast discussed the FBI director James Comey's decision to reopen the investigation of Clinton's emails. Joy Behar asked why the investigation of Clinton's email has been ongoing during the election while Trump's investigations won't start until after the election season is over, according to Raw Story.
Why is it that — maybe I don't know the law that well — but there was no investigation until after the election of fraud at Trump University...Then there are these allegations from 11 women about sexual assault. We'll hear about that after the election. So...as an American citizen, why am I only listening about somebody's e-mails? Why am I not hearing from the authorities about these cases?
So thank you to Chrissy Teigen and Joy Behar for spreading some much-needed common sense.