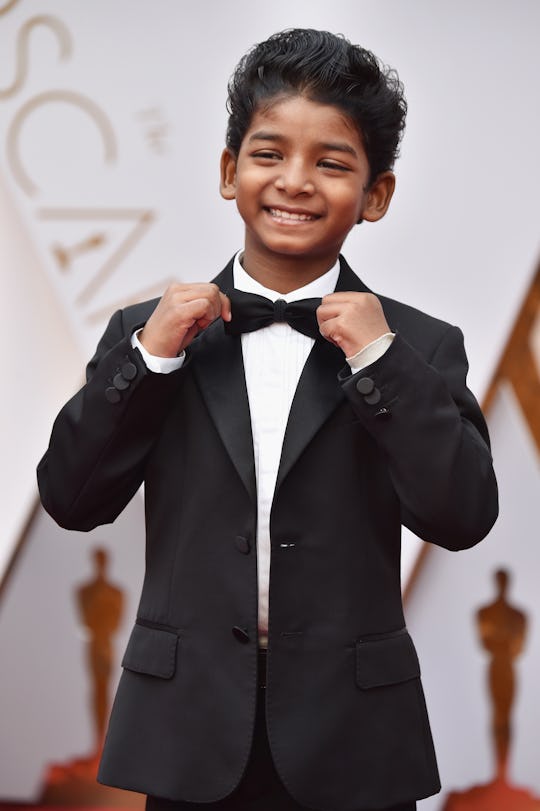 Frazer Harrison/Getty Images Entertainment/Getty Images
Chrissy Teigen & Sunny Pawar Are Oscars Goals
As a mother, I can't say I'm "all about the Academy Awards." Now, that's not to say my likes and dislikes have changed exponentially since I procreated. However, when your life shifts in order to include diapers and wipes and potty training, you reprioritize. Still, the moment Chrissy Teigen and Sunny Pawar met on the Oscars red carpet reminded me that Hollywood, Oscars, fame, and/or fortune be damned: sometimes motherhood takes over and you just don't give a you-know-what about your really expensive dress.
To say Chrissy Teigen stole the show on a red carpet is like saying oxygen is necessary to facilitate human life and gravity is a thing you just can't fight on earth. In other words, it's a given and we really don't have to go into silly little details like "how" and "why." Still, the moment Teigen met the 8-year-old Lion actor, was a moment worth remembering, especially since Teigen has somewhat "re-emerged" as a motherhood "expert" after the birth of her now 10-month-old daughter, Luna. Thanks to her candid social media presence and her no-holds-bar personality, mothers the world over (including yours truly) have turned to her for validation, solidarity, and no-b*llshit advice about all things parenthood.
Thanks to the power of social media, and iPhones with video capability, those of us sitting at home tending to our children (or nursing a nice glass of wine) could be part of the moment these two unlikely fans met. Teigen seems to notice Pawar amongst the crowd, then walks to him with arms outstretched. She then re-adjusts her dress in order to drop to her knees so she is at the young actor's height, then quickly and unapologetically gives him nothing short of a big, enthusiastic hug. As a mother to a 2-year-old toddler, this moment resonated with me in a way very few red carpet moments do. Here was this super-star celebrity, easily wearing thousands of dollars worth of clothes and jewelry, not giving a sh*t because an adorable and talented child was in front of her and, clearly, deserved and wanted a hug. I mean, raise your hand if you've ever been in your best outfit, only to say "f*ck it" because your kid (all gross and covered in who the hell knows what) wants a hug. Yeah, that's what I thought.
In a politically charged and uncertain climate, there are very few things we can be rest assured of. However, one thing is for certain: when a mother is face-to-face with an adorable child who is as talented and sweet as Sunny Pawar, it doesn't matter what the hell she's wearing. She's going to give that kid a hug, and we're all going to collectively swoon. #Bless