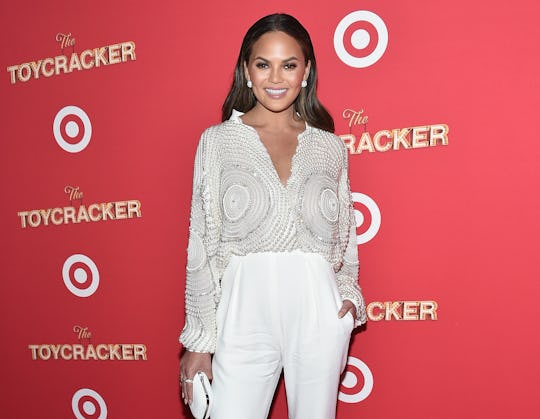 Mike Coppola/Getty Images Entertainment/Getty Images
Chrissy Teigen Is Tired Of Changing Diapers Too
Chrissy Teigen has quickly become one of the most outspoken celebrities on social media. She's not afraid to speak up for what she believes is right or clap back at haters and internet trolls on a regular basis. Not only did she use her platform to talk about important political issues during the presidential campaign, she often shines a light on the everyday struggles of being a mom. The 31-year-old model always manages to do it in her signature witty voice, too, which just makes everyone love her even more. In her latest Instagram post of baby Luna, for example, Teigen talked about the headache of changing diapers constantly, and it was hilariously relatable.
Teigen hasn't been shy about sharing her motherhood journey on social media since welcoming her first child with husband John Legend last April. She frequently posts photos of 10-month-old Luna to Instagram, accompanied by captions that hysterically capture what it's like to be a mom to a new baby.
Teigen's most recent post shows Luna hanging out in her diaper, chewing on what looks like a green bean, with the little blue line signaling that her diaper is wet on full display. Teigen captioned the adorable post, "This diaper is never not blue so don't even start with me." Every mom ever can relate to that feeling.
As all moms knows, life with a little one can feel like it's just one diaper change after another. Teigen speaking up about that pesky little blue line highlights a reality for life as a parent: The diaper is pretty much always wet. Babies urinate about 20 times a day for the first few months, according to the American Pregnancy Association, so it would be pretty expensive and disruptive to change your baby's diaper every single time they peed. (Just in case you're wondering at this point: It's recommended that parents change their baby's diaper every 2-3 hours during the day.)
This isn't the first time Teigen has spoken up about the struggles of motherhood. A few weeks ago she even took to Twitter to share a picture of her stretch marks too. Like the photo of Luna in her diaper, Teigen captioned the photo in the most relatable way possible. The picture was simply accompanied by one word: "Whatevs." Of course, the response to Teigen once again speaking up about mom life was overwhelming. A bunch of other moms replied to her tweet, thanking her for her openness.
Whether it's diapers, stretch marks, or presidential elections, Teigen is never afraid to use her hilarious, unique voice to shed led on important topics. It may seem trivial to some, but exhausted moms everywhere are grateful to have that sort of humor in the world.