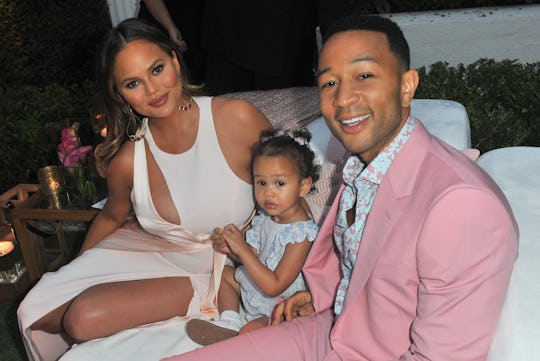 Jerod Harris/Getty Images Entertainment/Getty Images
Chrissy Teigen Took Luna To Get Passport Photos & Her Reaction Is Priceless
Chrissy Teigen and John Legend are used to walking the red carpet at events and having their photo taken by photographers — it's just another part of their jobs. But their 2-year-old daughter, Luna, isn't as familiar with it or used to it as her parents are. This is why it's so hilarious that Chrissy Teigen took Luna to get passport photos because the little girl treated the occasion like it was a real photoshoot — proving that being a natural in front of the camera may very well be in her blood (her mom is a model after all).
Luna, of course, is used to being in front of some kind of camera — both Teigen and Legend are constantly (and thankfully) posting photos of their daughter to their Instagram and Twitter accounts. But an iPhone camera is just a little different from a professional camera — so, it shouldn't come as a surprise that Luna would want to get dressed up for the occasion.
In a video, posted to Teigen's Instagram and Twitter accounts, Luna and Teigen's mom walked into a store, ready for Luna to have her passport photo taken — and the little girl was definitely prepared. In the video, Luna looked absolutely adorable and red carpet ready in her dress, sunglasses, and hair in two little buns. "It's a passport photo," Teigen said sarcastically from behind the camera.
Sure, it's just a passport photo — but Teigen should know that passport photos are the kinds of things that stay with you for life. So why wouldn't Luna want to get dressed up for it? Even if, judging by Luna's adorable grunt in the video, she wasn't looking forward to having her photo taken.
But the cuteness didn't stop there. Once Luna made her grand entrance into the store (which was a Kinko's according to a tweet on Teigen's account), she needed to get her photo taken — which she didn't like as much as getting dressed for the photo. In the follow up video, also posted to Teigen's Twitter account, Luna frowned as the photographer snapped pictures of her posing against a white backdrop while Teigen tried to get her daughter to smile. "These are great," Teigen said dryly in the video.
Sure, the pictures for Luna's passport might not have been amazing, but the memories (and these videos) that were made from this outing were definitely worth it. Teigen's followers on Twitter seemed to think so, based on the fact that they were tweeting at Teigen, sharing their thoughts about how adorable Luna looked throughout the time it took her to run her errand.
And they could not get over the fact that Luna did not want her photo taken at all, even with her fabulous entrance into the store.
If anything, these super adorable videos just shows how much personality Luna has at her young age — and this isn't the first time that she has shown it, either. In a April 2017 interview with People, Teigen told the magazine that it might take Luna a minute or two to warm up to people (which is exactly what she did on Friday when she got her passport photo taken). Teigen said, according to People:
She's giddy and excitable, but she's definitely more serious. She's more [John Legend] in that way. It takes a minute for her to warm up to people. Whereas I'm very much a toucher, a hugger, a lover, she really sizes people up and down.
Fans can definitely see that in the video where Luna is getting her passport photo taken — she really sized that camera up and down. But Luna doesn't just take after her dad. In an interview with Entertainment Tonight earlier this year, Teigen revealed that Luna does take after her in some ways, too. "Baby Luna's more like me...and I realized I can be difficult," Teigen said.
Both Teigen and Legend have big personalities and it is clear, based on the videos that Teigen tweeted on Friday, that Luna is forming one of her own, too. Seriously, she is too cute.